Nicholls selects new dean for College of Education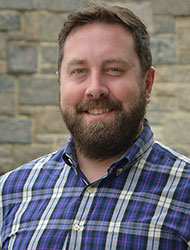 Scot Rademaker, previously a chairperson of the Division of Education at the College of New Rochelle in New York, has accepted the new dean of education position at Nicholls State University.
Rademaker has a long history in education. He began as a psychology major, led into school psychology by his mother, who was a school psychologist herself.
While in graduate school, Rademaker worked in the school system as a reading interventionist.
He completed his master's in psychology with a specialization in school psychology, but felt the need to continue his education. He then began a PhD program in special education, and said that is where he discovered his love for higher education.
Rademaker worked for the department chair and the dean, and said he was passionate about what he did.
When Rademaker found out his university in New York was closing and merging with another, he said he sought out new available positions outside of his position as division chair.
Rademaker said he stumbled across Nicholls, and what stuck out to him the most was the name of Nicholls' new College of Education and Behavioral Sciences.
"I thought everybody was so warm and welcoming—the faculty, the staff and the students I met all seemed to be very excited about what they were doing, and that's the first thing you look for, really," Rademaker said.
Rademaker said he was impressed by everyone he spoke to at Nicholls and enjoyed talking to them.
"It really made me feel like I was already a part of the family even though I haven't spent any time there," Radermaker said.
Regarding his future plans for the College of Education and Behavioral Sciences, Rademaker said he not only aims to support the faculty and staff in their endeavors, but also aims to bring in new, innovative concepts as he sees fit.
He said that once he gets his feet wet, he seeks to create some of his own initiatives along with the help of faculty and staff.
Dr. Rademaker is very excited about the connections he is already making and claims to have already made twelve new Facebook friends from Nicholls. He said is ready to become a part of the Nicholls community.