Movie Review: Murder Mystery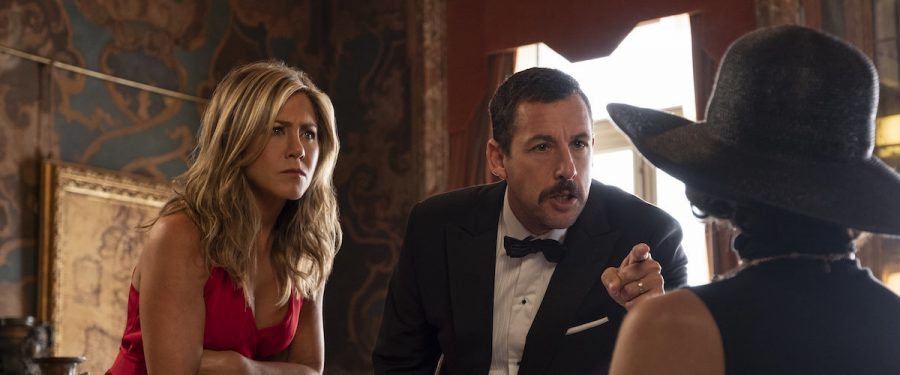 Arguably, Adam Sandler's movie career has taken a nosedive. With films like "Jack and Jill" and "Grown Ups", it is hard to remember how successful he was back in the 90s.
Since 2009, every Adam Sandler film has been certified rotten by Rotten Tomatoes.
Is there a shot at redemption for Adam Sandler?
Sandler stars alongside "Friends" star Jennifer Aniston in "Murder Mystery", a new Netflix Original comedy.
Nick, a New York policeman, has failed his detective exam three times. In order to protect his ego, however, he lies to his wife Audrey and tells her that he got the job along with a considerable raise.
Audrey is a hairdresser and an avid fan of mystery novels.
Years ago, Nick promised Audrey that they would honeymoon to Europe. Audrey wistfully dreams of the day that this can become a reality.
On their fifteenth anniversary, Nick underwhelmingly buys Audrey a fifty-dollar Amazon gift card.
Later that night, Audrey confronts Nick about their dream honeymoon, and Nick, in a panic, lies and tells Audrey that she ruined his surprise—the following day he was to allegedly surprise her with a European dream vacation.
On the plane to Europe while Nick is asleep, Audrey wanders into first class and meets Charles Cavendish, a billionaire viscount who invites the couple to his family's yacht to celebrate his elderly Uncle Malcolm's marriage to Cavendish's 23-year-old ex-fiancée, Suzi.
Nick had planned a bus trip around Europe for the two of them and he initially rejects this offer, but ultimately accepts after seeing the rowdy bus riders boarding at the airport.
The couple join the eccentric family along with their friends on the yacht. They meet Uncle Malcolm's son Tobey, actress Grace Ballard, Colonel Ulenga, bodyguard Sergei, the Maharajah of Mumbai, race car driver Juan Carlos, and Uncle Malcolm himself.
Uncle Malcolm makes his grand entrance on the yacht and gives a speech on how his guests are all leeches and how he will remove them from his will, leaving his billions to his new bride Suzi.
Just as Uncle Malcolm is about to sign the new copy of his will, the lights are cut and Malcolm is stabbed and subsequently killed. Nick and Audrey embark on an adventure to solve this murder mystery and prove their innocence.
Visually speaking, the film is well-made. It is exciting and action-packed considering it is an Adam Sandler movie.
When the film gets too serious, Sandler peppers in witty one-liners, which at times feels inappropriate, but at the same time feels about right.
As a whole, the film is fun and a worthwhile watch.
The movie, even in spite of its name and subject matter, is incredibly lighthearted. It does not take itself seriously, which in a sense is respectable.
By no means is it a blockbuster motion picture, but its silliness is watchable. It is a suitable movie to watch on Netflix on a night in.
With Sandler's track record in the last ten years in mind, this is certainly a highlight.