Colonel athletes reflect on how they succeed in the classroom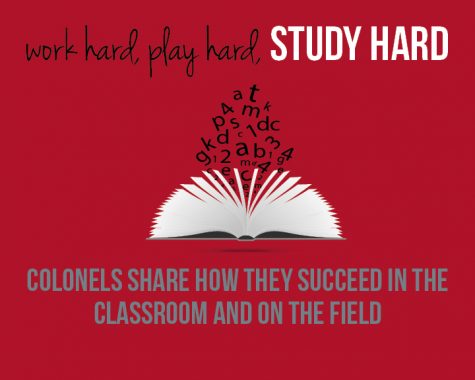 Nicholls State University athletes have continued to display their strengths both on the playing field and in the classroom by maintaining the delicate balance required for excelling in both school and sport.
According to information released by the National Collegiate Athletic Association, Nicholls athletics has performed above the standard average for the sixth consecutive year. Every Division I sports team in the nation calculates its academic progress rate annually using a point-system based on how many athletes stay eligible, stay in school and graduate. Although some teams across the country faced consequences for scoring below a 930 academic progress rate in the 2014-15 school year, Nicholls athletics prevailed. Ten of the Colonel teams finished with a 950 or higher with three possessing rates higher than the national average of 979.
After 64 student athletes were recognized on the Southland Commissioner's Fall Honor Roll last fall, the Colonels continued to excel by placing 73 on the SLC Spring Honor Roll. According to the student athletes at Nicholls, there is a method to the madness of performing in the classroom and in their sport.
"One of the biggest tips I can say regarding balancing academics and athletics is to stay ahead of the game," junior linebacker Geoffrey Hebert said.
In his 2015 season, Hebert was recognized as the second player in program history to be named to the CoSIDA Academic All-America First Team after earning a 4.0 GPA as a double major in finance and accounting. He also received CoSIDA Academic All-District and Southland Conference All-Academic.
"I feel as though every free second I have is spent in a book so I can achieve my goals in the classroom," Hebert said. "I think that with proper time management, anyone can achieve their goals both on the field and in the classroom."
One of last year's Southland All-Academic recipients, senior soccer player Hannah Savoie admits that the time constraints and commitment to being a full-time student as well as a college athlete have helped her achieve her highest academic potential.
"The work has definitely paid off and I think I owe a lot of it to being a college athlete. It kept me in a good routine and I knew I didn't have a lot of room for error," Savoie said. "Getting recognized by the conference was awesome. I never expected it, but I am definitely proud to have received an academic award through soccer."
Savoie said forming a routine, touching base with professors and writing down both game days and test days in a planner have helped her stay on track from her freshmen to her senior year.
Junior punter Tyler St. Germain echoes Savoie's emphasis on time management and planning. While savoie relies on a planner, St. Germain uses a similar method for staying organized.
"My favorite tool to have to prepare is a calendar. To prepare for my upcoming semester, I like to gather my syllabi and write down every due date and assignment for the whole term," St. Germain said.
St. Germain is also a firm believer in the checklist. At the beginning of the week, he writes down everything that must be completed so that by the time the weekend rolls around, he is ready to focus his mind and body on his football game instead of school work. St. Germain said time management is the one tool that every student athlete will have when they leave college and enter the workforce.
His techniques helped him earn a spot on the President's List last year, as well as a 4.0 GPA which is the highest he has received so far. St. Germain was also the Classroom Champion recognized by the American Sports Network who televised the Colonels game vs. Central Arkansas this year.
While student athletes at Nicholls continue to do whatever it takes to balance their time in and out of the classroom throughout their college years, they know the skills they develop now will help them later on in life.
"After being in college for three years, I can finally say that I am almost totally prepared for the real world, but it does not just stop here," St. Germain said. "I will keep on pushing myself to work even harder towards academics as I make my final push for my senior year."