Nicholls International Community hosted its ninth banquet
The Nicholls International Community presented their ninth annual International Banquet on Nov. 5, 2016 in the Cotillion Ballroom.
This year's theme was "Underground: London Calling." The ballroom was decorated with red, blue and white. Also, each table represented a different location from London.
The banquet also had three snapchat filters: a red telephone booth, a black hat and an umbrella, and a double decker red bus. The theme was showed on each.
"This was my first time coming to the banquet and it was amazing," Ria Ledet, pre-physical therapy junior from Yokohomo, Japan, said. "I keep flipping back and forth between America and Japan. I will spend ten months here and then, over the summer, go back to Japan."
The Nicholls International Community has about two hundred international students from over 60 countries. At the banquet they introduced two new countries flags to be hung in the Student Union representing the Dominican Republic and Poland.
"I was looking for a college to study here in America and I came up with Nicholls," Oleksander Podgursky, finance sophomore from Simferopol, Russia, said. "I spoke with my tennis coach and he invited me here."
At the banquet they had about 300 people in attendance. 200 attendents were Nicholls interntional and regular students. The other 100 were guests, family members of the international students, faculty of Nicholls and members of the Thibodaux community.
"I actually heard about Nicholls from my tennis agent when she was contacting various schools," Kieran Cronin, sport science senior from Manchester, England, said. "I picked Nicholls because the tennis coach here was most knowledgeable about the sport and that's how I ended up here."
The menu went along with the London theme. They had marinated prawn cocktail as an appetizer and Sunday roast, roasted Cornish game hen, sage studding, and steamed baby vegetables as the main course. For dessert, they served sticky toffee pudding and tea.
All the different aspects of the banquet were put together by the different student committees. They were overseen by Carmen Marinelli, the Nicholls International Community president and a marine biology junior from Guatemala.
"I started as an exchange student when I was 13 years old and I met a family in Pierre Part," Marinelli said. "When I was 16, I decided to stay and receive my high school diploma here in the States. So, I graduated from Central Catholic and decided to come to Nicholls because it was the closest to what I have always known."
Bruce Murphy, president of Nicholls State University, greeted the guest at the beginning of the banquet in languages from over 39 countries.
Throughout the banquet, over 17 international students performed as entertainment. Some of the performances included various songs from Brazil, Nepal, U.S.A. and China. Six students from Nepal performed a traditional dance and another student gave a beat box improvisation.
At the end of the evening, the international community gave out its annual scholarship to junior Stephanie Barnett, an elementary education major from Melbourne, Australia.
Even if students weren't performing at the banquet, many dressed in traditional clothes from their home countries and took the night to celebrate each of their country's uniqueness.
"I feel like I belong in Louisiana," Marinelli said. "It's definitely different from back home, but I feel extremely safe here. I miss my family and if they could be here with me it would be the perfect place."
Leave a Comment
About the Contributor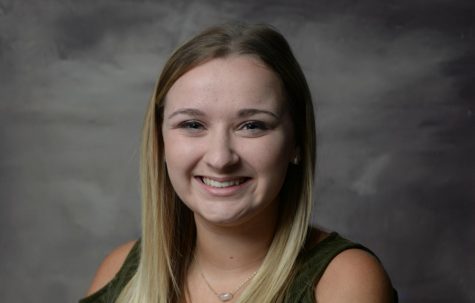 Claire Blanchard, Lagniappe Writer
Major | Biology
Classificaton | Sophomore
3 Facts | I have a 12 year old pet bunny; my favorite color is black; I hate ketchup.
Favorite Quote...