Nicholls students discuss the affects of senioritis
Nicholls seniors discuss senioritis and how they treat its symptoms.
Spring is here. The flowers are blooming, the weather's warming and your sinuses are flaring up. If you're a senior, forget about your allergies and vaccinate against senioritis.
"I was supposed to be studying last night because I have a midterm this week," Tyler Sims, petroleum services senior from Baton Rouge, said. "They just put Scarface on Netflix, so you know where my time went. Then I was Snapchatting as I was watching Scarface, so studying did not happen."
Procrastination is a common symptom among those suffering from senioritis. Most seniors choose to wait the day before an assignment is due to begin it.
Elonah Garner, marketing senior from Houma, is one of the few who avoided the senioritis epidemic.
"I'm trying to get everything out of the way as fast as possible so I can rest at the end," Garner said.
Another senioritis symptom is the lack of wanting to go to class. Many seniors find themselves dragging their bodies to class.
"I noticed I had senioritis about a month ago," Adam Lefort, management senior from Thibodaux, said. "After the first weeks, I was ready to stop going to class. Now I have to push myself to come to class."
Although senioritis is most common during the last semester of senior year, there are some cases where a student experiences symptoms early on in their college years.
"I've had senioritis since my sophomore year," Sims said.
Graduation, and summer, is two months away, so students are ready to drop their textbooks and enjoy the rest of their lives.
"I'm tired of school, but knowing that I'll have a job when I graduate helps me try to stay focused," Celia Ordoyne, marketing senior from Thibodaux, said.
Graduating doesn't mean you suddenly know the meaning of life. Some seniors remain uncertain of their plans after graduation.
"This is the other part of senioritis where I don't know what I wanna do so I want to stay in school forever," Lefort said.
Now you may wonder, how does one get the dreaded senioritis? Oddly enough, the cause of the illness also happens to be the cure.
Some seniors look forward to pursuing a job.
"Knowing that I'll have a job when I graduate helps me try to stay on track," Ordoyne said.
Others don't want their years-worth of hard work to go to waste.
"Knowing I'm about to graduate and have a degree pushes me forward," Lefort said. "If I give up now, I won't be able to graduate."
Last but not least, others can't wait for their family members to witness a great accomplishment.
"I'm a mom and a wife," Garner said. "My daughter tells me that she is so proud of me and that she's gonna be so proud of me at my graduation. She says, 'Congraduation!'"
Many seniors agreed that senioritis in high school is nothing compared to having it while in college.
"In high school, you had your parents telling you to keep studying and to maintain good grades," Ordoyne said. "In college, you're on your own. If you want to watch Netflix for hours, you can."
Senioritis isn't a choice. It's almost impossible to avoid. So for those seniors suffering from the disease, hang in there. Your cure is two months into the future.
Leave a Comment
About the Writer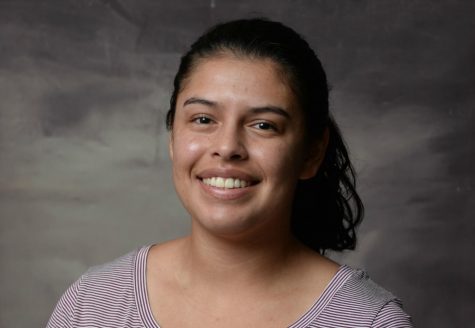 Juana Martinez, Print Managing Editor
Major | Biology, Pre-Med
Classification | Junior
3 Facts | I speak English and Spanish; I'm from Los Angeles, CA; I made a snow cone for Steve Carell.
Favorite...