Former librarian to serve as Bonnie Bourg Lecture Series speaker
In honor of Women's History month, Nicholls will host the annual Bonnie Bourg lecture series and luncheon on March 10.
The National Women's History Project's website's mission statement is to acknowledge the diverse and historic accomplishments of women. This year's theme honors women in public service and government who are "working to form a more perfect union."
"What we did with the theme was to encourage people to not look at it very narrowly," Michele Caruso, dean of student services and assessment coordinator for student affairs, said.
Every year Nicholls students, faculty and staff nominate another Nicholls student, faculty, staff and community member for the Woman of Achievement award. A selection committee scores the nominees who meet the criteria. Each category receives one award. The categories are divided into faculty and staff, students and community members.
"The person nominated for the Woman of Achievement Award doesn't have to serve in public service or government, but could be anyone who provides any kind of service towards others," Caruso said. "We didn't want people to look at government as some form of structure, but in a way that meant using their voice to advance social justice."
Fran Middleton, retired Nicholls librarian and alumni, believes women have changed professional gender roles and now have positions of leadership.
"I started working at Nicholls in 1974," Middleton said. "If you go back 100 years to 1874, do you think I would've been in a university classroom?"
Bonnie Bourg, one of the original Nicholls' faculty members, was the dean of women. Men were the deans of men. Men dominated professions that were originally female dominated, like librarian positions.
"The purpose of the Bonnie Bourg lecture series is to highlight women who have made great achievements in their fields," Caruso said.
Middleton was invited to speak about the case, "Justice Denied: The Dreher-LeBoeuf Case."
"I was invited to meet with Michele Caruso and Jeanne Murphy," Middleton said. "I didn't know what I was going for. You could have knocked me over with a feather. I went from inviting myself to being invited."
She spent over two years researching the 89-year-old case.
"I work on it quietly everyday," Middleton said. "So what I'm doing isn't all that different from students except that y'all have more energy and can procrastinate."
Middleton studied at Nicholls for three years.  Middleton said most of the females studied a field in education or business. There were very few female students in the sciences.
"Chris Coulon told me that the Honors Program was going to pay for some of the students so they could attend the luncheon," Middleton said. "It means a lot to me that there will be students at the luncheon and lecture series."
The idea of honoring women and their achievements began in Sonoma, California, in 1978.  In 1980, President Carter declared the week of March 8 as National Women's History Week. It wasn't until 1987 that March was considered National Women's History month.
"Women's History Month is important because it's a celebration of how far [women] have come, but also a reminder that we have a long way to go," Middleton said.
Leave a Comment
About the Writer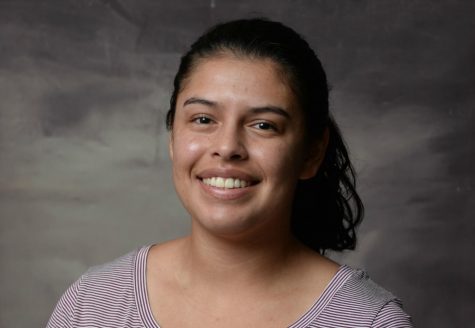 Juana Martinez, Print Managing Editor
Major | Biology, Pre-Med
Classification | Junior
3 Facts | I speak English and Spanish; I'm from Los Angeles, CA; I made a snow cone for Steve Carell.
Favorite...