Biology senior invited to present research in Washington D.C.
A Nicholls student's dream of working in aquaculture comes one step closer to reality after researching pathogenic bacteria in Louisiana seafood.
Richard Grabert, 22-year-old biology senior from Thibodaux, knew what career path he wanted to take since the age of three.
"Growing up, I always wanted to be a marine biologist," Grabert said. "I went to Sea World when I was about three years old, and I came back saying I wanted to be a marine biologist. As I got older, I realized there's more to marine biology than big whales and dolphins. Now I want to work in aquaculture and grow shrimp and oysters for seafood purposes."
Grabert's inspiration for marine biology grew as he read about sciences, explorers and National Geographic articles.
"I wanted to put marine biology and microbiology together in a way that it had to do with aquaculture," Grabert said. "I realized this is what I wanted to do probably about six months ago."
The E.D. White alumni had his moments of uncertainty. During his senior year of high school, he wasn't sure whether he would stick to majoring in biology or if he would major in engineering instead. Four years later, Grabert, sticking to his original plan of majoring in biology, is headed to Washington, D.C.
"My freshman year was a lot of fun," Grabert said. "I enjoyed my classes and met a lot of good people. I've been at Nicholls since then. After graduation, I plan on going to graduate school and getting my master's in something aquaculture related."
On April 19-20, Grabert will present his research on the presence of pathogenic bacteria in Louisiana seafood to the Council on Undergraduate Research. He spent about two years conducting his research on seafood obtained from the Chef John Folse Culinary Institute.
"When I applied to Posters on the Hill, I didn't think I would get in," Grabert said. "I'm really excited and can't wait to go. I'm going to represent Nicholls."
Grabert was selected out of 300 applicants to present his research in Washington, D.C. A total of 60 students will be at the annual Council on Undergraduate Research event.
Grabert would like to thank Ramaraj Boopathy, professor of Biological Sciences and Grabert's mentor, for all the success he's acquired.
Boopathy helped Grabert think of his research topic. Grabert was looking for traces of vibrio vulnificus and vibrio parahaemolyticus in Louisiana seafood.
"I'm redoing my poster," Grabert said. "I'm making it more appealing and easier to read. I worked on my original poster for a couple of days."
Grabert is Boopathy's third student to be invited to Posters on the Hill in three years.
"My family and I are very excited," Grabert said. "They keep asking for information as I get it from the people in Washington, D.C. and I've never been there before. It should be fun."
Grabert's dream has been a work in progress. His freshman year in college was anything but easy. His workload has decreased since then, but he knows his hard work was worth it.
"Find something you love and keep doing it," Grabert said. "It'll pay off."
Leave a Comment
About the Writer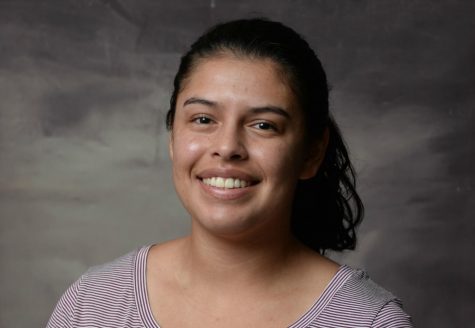 Juana Martinez, Print Managing Editor
Major | Biology, Pre-Med
Classification | Junior
3 Facts | I speak English and Spanish; I'm from Los Angeles, CA; I made a snow cone for Steve Carell.
Favorite...