Students express their expectations for spring semester
Some students set goals to improve their academic and personal habits for the spring semester.
Katelyn Smith, mass communication senior from Thibodaux, plans to make her last semester at Nicholls the best possible and focus on becoming a better person.
"I plan on attending class, not skipping or showing up late and showing up dressed somewhat decently," Smith said. "My main focus is to graduate by the end of this semester. I want to be a better person. I'm trying to be a better person, but I can't say I've been as nice as I could be."
Although this is Jaazha Scott's second semester, the health science freshman from Baldwin and Smith share a mutual focus on graduating.
"This semester, I expect myself to study harder, get better grades and interact with my teachers more," Scott said. "I plan to push myself harder than I did last semester."
Kathryn Dickinson, biology freshman from New Orleans, wants to improve her grade point average and focus in class and on her schoolwork.
Other students prepare for the worst that can occur during the semester. Rather than setting goals students know they will ignore, they prepare for a realistic situation.
"I feel like this semester is going to be very hard for me because I'm taking a lot of difficult classes," Allison Silva, education freshman from Belle Chasse, said. "I need to start studying more than I did last semester."
Nikkolas Monceaux, graduate student from Houma, will work on his math master's degree this semester.
"I'm a part-time student, so I only have two classes this semester." Monceaux said. "My math class is going to be extremely easy, so my main focus is my computer science class."
Just because it is the beginning of a new semester, students' new year goals do not entirely revolve around the new semester.
"My New Year's resolution was to get in shape and stop eating bad food," Scott said.
The start of the spring semester marks the end of winter break. Most students would be disappointed about their return to school, but Scott was relieved to return to campus.
"My winter break was boring. I didn't do anything all day," Scott said. "I would have preferred to be at school."
Monceaux jokes about why he didn't have any New Year's resolutions of his own. He views the new semester and year with a positive attitude.
"I didn't have any New Year's resolutions because I'm already so perfect as it is, so there's nothing to improve on," Monceaux said.
Monceaux didn't enjoy his break at all.
"My winter break felt very long because I had to work most of it," Monceaux said. "This semester will be different as I work a full-time job and come to school part-time."
Smith spent her winter break taking an intercession class and working on the yearbook.
Many students went home to their families.
"My winter break was great," Dickinson said. "I got to go home and spend time with my family."
Although classes are in session, summer time will soon be approaching. A few months of hard work in school will prepare everyone for summer break.
Leave a Comment
About the Writer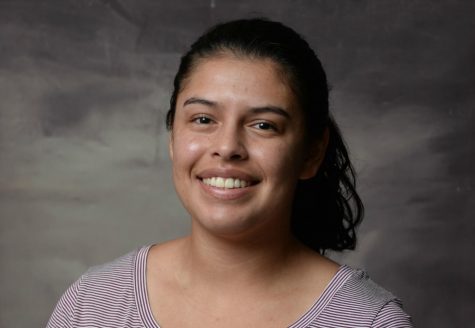 Juana Martinez, Print Managing Editor
Major | Biology, Pre-Med
Classification | Junior
3 Facts | I speak English and Spanish; I'm from Los Angeles, CA; I made a snow cone for Steve Carell.
Favorite...