Students weigh in on Nicholls apps and social media
Students follow Nicholls on social media sites and use the Nicholls mobile application to stay updated on campus events and their academic life.
Nicholls has a mobile app that allows students to access their course schedule, grades, important on-campus important numbers and campus events.
"I use the Nicholls app to check my Nicholls email, Moodle, and my courses throughout the day," Cody Chiasson, business administration freshman from Thibodaux, said.
Chiasson claims the Information Technology staff needs to improve the app's graphics and fix the bugs that don't allow it to load properly and efficiently.
Many students claim the University app needs multiple improvements.
"What I don't like about the Nicholls app is that I have to log in multiple times to get to my email or Moodle account. It never remains on the app. It takes me to another place," Jordan Galliano, education sophomore from Cut Off, said. "I only remain logged in for like 15 minutes."
The app's problems push students to abandon the app.
"I used the Nicholls app my freshman year, but the app contains a lot of glitches so that caused me to stop using it. I just use the Moodle Internet page now. It's easier," DaJanea Gattin, education junior from Laplace, said. "Nicholls has to keep up with technology."
Students follow Nicholls on social media sites, like Snapchat and Instagram, to keep up with future events on campus.
"I follow Nicholls because I want to keep up with the school's events, like the drag show from Wednesday," Gattin said.
Students don't only follow Nicholls on social media sites for information, but also for entertainment. Homecoming week brought entertainment to students through the Internet.
"I really liked the Confused Colonel segment during homecoming week. It was entertaining to watch," Galliano said.
Nicholls can be found on Facebook, Twitter, YouTube and Snapchat.
"I think it's good that colleges are on social media sites because students keep growing with social media. It makes it easier for colleges to stay in communication with the students," Munson said. "I follow Nicholls on Instagram because it gives you an outlook on what's going on and what other people are doing on campus."
Lacie Fontenot, biology freshman from Lafayette, and Chiasson believe colleges on social media motivate students to connect with their university.
Many students aren't aware of Nicholls' social media sites.
"I didn't know Nicholls was on social media sites, but it seems really beneficial," Chiasson said.
Other colleges in the country include different features in their mobile apps. California State University, Northridge's and University of Notre Dame's apps include campus weather forecasts for its users. In Pennsylvania, Villanova School of Business' app, ModoLabs, advises its students about internships and job opportunities.
Leave a Comment
About the Writer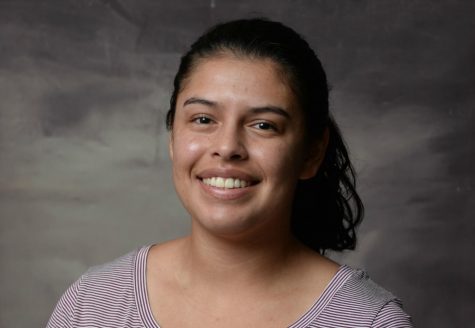 Juana Martinez, Print Managing Editor
Major | Biology, Pre-Med
Classification | Junior
3 Facts | I speak English and Spanish; I'm from Los Angeles, CA; I made a snow cone for Steve Carell.
Favorite...