Students and professors weigh in on RateMyProffessor reviews
Nicholls students use RateMyProfessor.com to research their professors, but professors advise students to lean away from the popular website and seek other sources.
RateMyProfessor.com is a website used across the United States, United Kingdom and Canada is "built for college students, by college students," so students have the opportunity to rate and comment on their professor's helpfulness, clarity and easiness. Students post comments that inform other students on their professor's expectations, whether they mark attendance and if they require a textbook.
"I'd say RateMyProfessor.com is pretty accurate. The toughness of the teacher was definitely accurate and helped me a ton. It also showed me how much [the professors] used notes or if they needed computers or books. Especially if I actually had to buy a book, that's what I liked most about it," Spencer Valdespino, mass communication senior from Spring Hill, Florida, said.
Not all students agree on the website's reliability. "I find it's more biased than accurate. Some people are like 'he's a horrible teacher,' while I really enjoyed his class. I wouldn't go off of it 100 percent, but it's a good heads up," Connie Gentry, history sophomore from Houma, said.
Eric Diggs, mass communication sophomore from St. Rose, and Tico Plater, biology freshman from Baton Rouge, have not used RateMyProfessor.com, but feel like the site would be helpful for new students who are trying to register for classes.
The site receives new comments and updates its ratings near the end of the semester, when students post new material.
Alyson Theriot, assistant professor of education, insists students use word of mouth to acquire information on their possible professors, instead of searching the information on RateMyProfessor.com.
"Students have to talk to people and word of mouth is more reliable. I've done it, and not all professors are on the site. Professors are only on the site if a someone is angry enough to put bad ratings or if someone who really enjoyed the class takes the time to share. Students are too busy to take the time to rate their professors. Ask someone who is a few semesters ahead of you, they can give you some really good recommendations," Theriot said.
Although the website was created for college students, professors are well aware of their presence on the site. Scott Phipps, history instructor, uses the site as a form of guidance, but reads the comments for entertainment.
"I've actually been following myself for about eight years on RateMyProfessor.com. I know it's an act of narcissism, but there's a little bit more than just that. It does impact the way that I present in the classroom," Phipps said. "I find the comments hilarious. I'm reading them like literature. My personal favorite was one that said, 'Phipps is the absolute worst teacher in the world. I would not let him teach my dog.'"
Students can rate their professor's "hotness" on RateMyProfessor.com, using the chili pepper feature. When a professor is considered "hot," a chili pepper appears on their page. Clark Farren, speech instructor, jokes about putting the chili pepper on his page.
"The chili pepper appeared about six years ago. I placed it myself. It doesn't really affect me. It just makes me hungry and want to eat spicy food. I think it's a fun thing on the site," Clark said.
Leave a Comment
About the Writer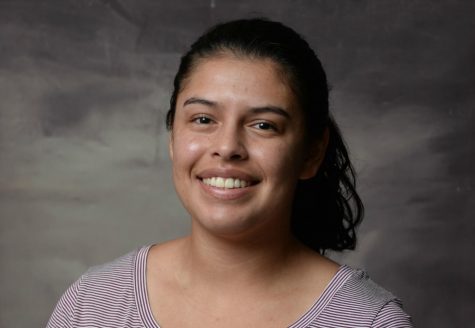 Juana Martinez, Print Managing Editor
Major | Biology, Pre-Med
Classification | Junior
3 Facts | I speak English and Spanish; I'm from Los Angeles, CA; I made a snow cone for Steve Carell.
Favorite...