A farewell from the editor in chief
Goodbyes are always my least favorite part of everything. In earnest, they are a solidified end to something we often love dearly, marking a teary-eyed affair by which we know our life will forever be different in some regard. Goodbyes are especially hard when the real world makes things end in all the opposite ways you planned for and imagined.
I have had my mind on my last day—my goodbye—as editor in chief of the Nicholls Worth since almost the first day I was hired three years ago. Only a year into my time at the publication, my sophomore self wondered what impact I might one day make on my campus and what sort of legacy I would hold on the day I left. After seeing the senior staff and editors before me fight tooth and nail for the issues important to the Nicholls State University student body, I only hoped I could look back and say the same.
With help from the most talented students I have ever seen, we took that idea and created an all-new identity for the Nicholls Worth. We replaced a 68-year-old newspaper with the university's first newsmagazine, an enormous risk that paid off when we found the publication earning awards just two-and-a-half years later. We turned into an online-first publication, where we covered the potential cancellation and subsequent saving of our university's yearbook, the resignation of the university's fifth president and the selection of its sixth, the widespread success of Nicholls athletics, Nicholls' response to COVID-19 and about a million topics in between. I myself learned to write in a professional capacity about sports, business, education and yes, even dogs.
Though I feel excited about the foundation we have set for the next editorial staff to far exceed our accomplishments, the job itself tells such a small and comparatively insignificant portion of what my student publications career has given me.
And though the journalism and branding education and the career opportunities the publication has provided me will never go forgotten, my true gratitude lies in the life lessons taught to me by the people I met across the last four years.
Student publications is an organization of opportunity. I have been forced out of my comfort zone almost daily, as I had been ripped from whatever shell I had walled myself into from the moment I sat across from my advisor for the first time as editor in chief. When we scrapped the publication's history to begin a new tradition, I knew how often I would be required to learn, to experiment and to grow. I learned to say yes far more often than no and to take risks I knew not if I could afford. Often times, the only negative resulting from a risk is a hit to your ego, and a drop in self-esteem is the only place that failure finds success.
That lesson in accountability and understanding how to fail was essential to finding any form of fulfillment. The Nicholls Worth taught me how to love myself and how to hold myself against my own failures, so that I could learn lessons from my greatest mistakes and become a better version of myself almost constantly. I learned what it meant to die to myself and take a permanent position of service through leadership, and I learned how to be a better person for the people around me.
The Nicholls Worth taught me how invaluable every person around me is. I have had the irreplaceable opportunity to learn to love through the passions of every person I have met since the day I began the job. The student media leaders before me taught me to be patient and kind, imparting their knowledge on me in a way that showed me how essential compassion is even in the smallest of interactions. I learned from sports information directors how to communicate with strangers, from public relations professionals how to build contacts, from our university president how to influence through empathy and effort and from my professors and advisors how to stand up for what I believe in, and how the best way you can inspire others is through letting their creative voices shine above your own.
And I learned from my closest friends how to love unconditionally. Student publications introduced me to the most beautiful, compassionate, creative and dedicated people I have ever met, and all of them are the people I now hold closest to my heart. My own staff, classmates and those others I have met as a result of my time in student publications have shown me how to support, how to understand and how putting others before yourself makes the world around you a better place. I could spend paragraphs detailing every person who has made the last four years so impactful, but instead I hope I can show them in person by dedicating my effort and my time to those who have done so for me at every opportunity. There are so many people I have to thank for so much, and I hope my continued effort as their friend is the beginning of a lifetime of gratitude. I would not be the person I am without the incredible, unbending love of those around me, and for them I am most grateful for student publications.
All of that love is where my single most impactful piece of advice stems from: let compassion guide your every action. Preaching to practice empathy is almost becoming cliché as we find ourselves in increased political strife, societal uncertainty and personal stress, and that is why it is as important a lesson as ever. Surround yourself with people who love you, and far more importantly, people you can show love to. The greatest gift we can give another person is understanding, and it is something I may not have learned if it were not for the people the Nicholls Worth placed around me.
My time as editor in chief does not end with my contract, as the friends I met and the lessons I learned here will be a part of me forever. The Nicholls Worth is not merely a news publication, but a vehicle for kindness, love and learning.
And so—albeit still teary-eyed—this is not a goodbye, but a thank you. 
Leave a Comment
About the Contributor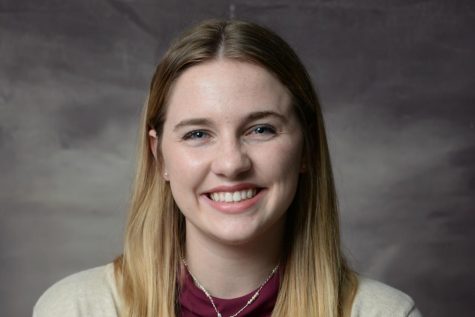 Keely Diebold, News Editor
Major | Mass Communications
Classification | Sophomore
3 Facts | I love photography; I wish I lived in Disney World; My favorite show is The Office.
...