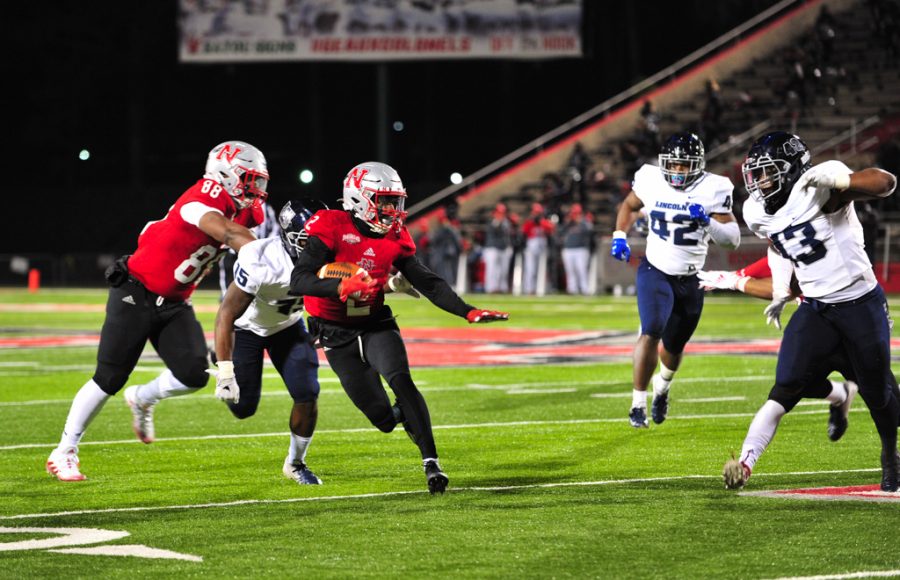 Ryker John Emnace
After starting the season with consecutive home games, the Colonels headed to Natchitoches to face the Northwestern State University Demons.
Nicholls went 4-4 on the road last season, but defeated Northwestern in Thibodaux by a score of 45-35.
The game began with the defense taking the field and forcing a Northwestern punt. The defensive stop would lead to the first score of the game when running back Julien Gums would find the endzone with a 5-yard run.
Northwestern would quickly answer that score when running back Scooter Adams would break free for a 58-yard touchdown run bringing the game to a 7-7 tie.
On the following possession, the Colonels would march the ball 69 yards down the field with Lindsey Scott Jr. finding Dai'Jean Dixon for a 6-yard touchdown pass.
The Colonels offense would once again find success in the Scott-Dixon duo. The pair would connect for their second touchdown of the first half giving Nicholls a 21-7 lead going into half time.
The second half would begin with the Colonels offense taking the field, but the drive would end prematurely after an intercepted pass by the Demons.
Northwestern would need only one play for running back Aubrey Scott to find the endzone with an 80-yard run.
The two teams would each go on to add three points in the third quarter with Nicholls taking a 24-17 lead into the fourth quarter.
The Colonels would strike first in the fourth with Scott connecting with David Robinson for a 42-yard touchdown pass.
After a pair of defensive stands from both teams. Northwestern would finally find the endzone to bring the Demons within seven points of the Colonels.
Nicholls would answer the score by holding the ball for the remaining five minutes of the game to secure the 31-24 victory for the Colonels.
Lindsey Scott would finish the game with 299 yards passing and three touchdowns, running back Julien Gums would add 157 yards rushing with a touchdown and wide receiver Dai'Jean Dixon would haul in seven receptions for 115 yards and two touchdowns.
Kevin Moore would lead the defense with 11 total tackles while Pig Cage and Ty'Ree Evans would each record one sack. 
The Colonels will be on the road for the second straight game when they travel to Huntsville, Texas to face Sam Houston on March 13 at 12 p.m.