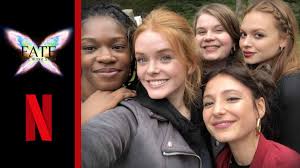 The new Netflix series "Fate: The Winx Saga" is a live-action adaptation of Iginio Straffi's 2004 Italian cartoon "Winx Club" by "The Vampire Diaries" producer Bryan Young.  
The series follows the story of a group of fairies that attend the legendary school of Alfea which is in the magical land of Solaria within the Otherworld. Bloom, played by Abigail Cowen, is a fire fairy who is beginning to experiment with the boundaries of her powers after learning she belongs in the magical world. She overcomes obstacles with the help of her suitemates Stella (Hannah van der Westhuysen), Aisha (Precious Mustapha), Terra (Elliot Salt) and Musa (Elisha Applebaum).
Bloom learns that she belongs to the magical world after accidentally setting her house on fire and slowly learns details about her past that explain why she has such a hard time controlling her magic. 
Overall the show has the typical drama that most CW shows portray. There is the golden boy, Sky (Danny Griffin), who is Stella's ex-boyfriend and is now falling for the main character, Bloom. Somehow, Bloom's past is connected to everyone else's which makes her story the main plot and the key to everything that is going on around Alfea. 
Season one was released on Jan. 23 and has six episodes. It has received a few bad reviews mostly because the story around Terra, an earth fairy, revolves around the fact that she is plus size. Terra is shown as an insecure character who is "desperate" for the attention of a boy. However, towards the end of the season, we see Terra begin to stand out as a resourceful fairy. It is definitely worth watching if you like fantasy dramas.