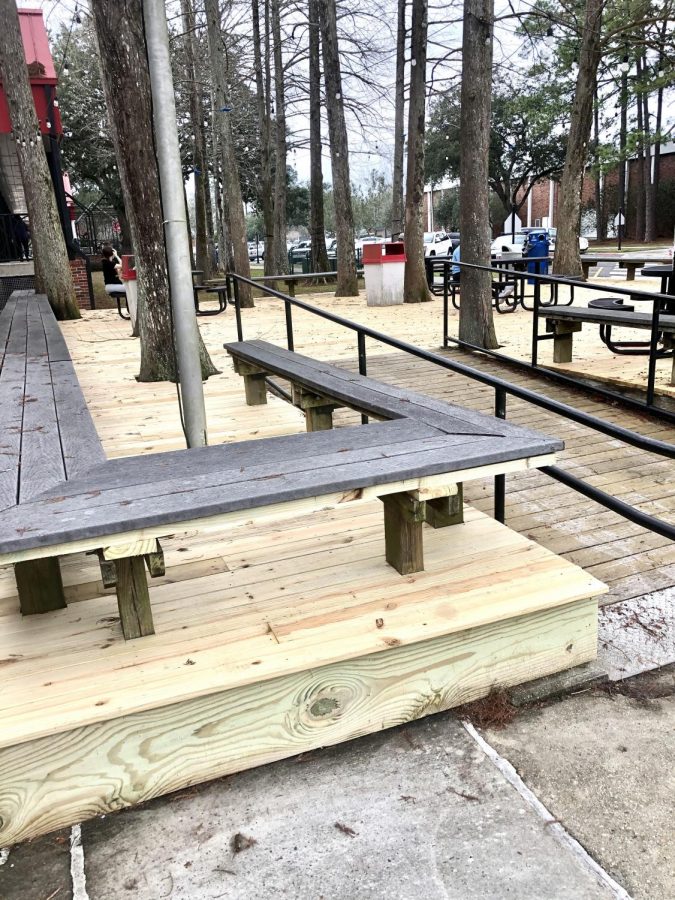 Over the winter holidays, Nicholls State University installed new wood to the lounging area outside of the Bollinger Memorial Student Union in an attempt to ensure a safe return for all students.
Vice President of Finance and Administration Terry Braud said that action was taken after noticing that the area seemed untrustworthy, with a few of the wooden planks broken in certain areas. 
According to Braud, University President Jay Clune urged for the project to be completed prior to the beginning of the 2021 spring semester not only for students to return to a safer lounging area, but also in time for warmer climates and the enjoyment of the outdoors.
The demolition process and the reconstruction work was carried out by the university's maintenance team. In turn, the materials necessary for the project were funded by the NSU Foundation. 
Braud said that the next step in the project is to paint and/or stain the wood. Braud also mentioned that the university is in the process of coordinating with various student groups, in hopes to receive volunteers to take on the work as a community service project. 
Until the university receives this help, Braud stated that staff at the university is working internally to complete this project.
Assistant Vice President for Human Resources/ Chief Diversity & Inclusion Officer Steven  Kenney said that the renovation was necessary because the space serves as a high-traffic area that many of the students at Nicholls use for social interaction. 
Kenney explained that as focus is continued to be placed on people, places and processes, this project was one that would show the university's continued commitment to the spirit of community that all students desire. 
Student Government Association President Ethan Naquin reported that with this project being under the university's initiative, SGA also supports the renovation efforts for the wood.