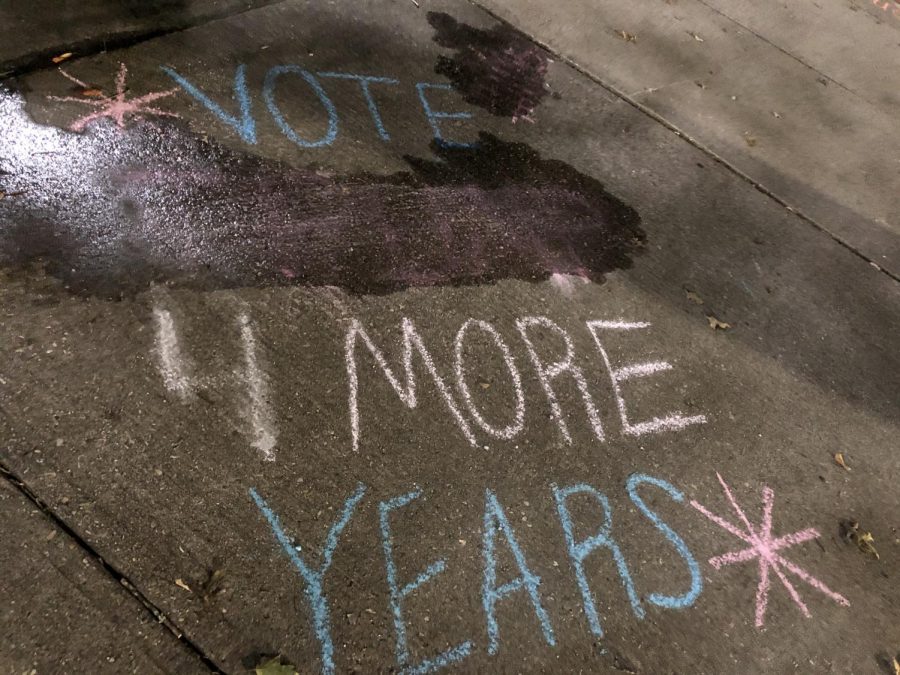 On Sunday afternoon, an unregistered student organization who refer to themselves as The College Republicans at Nicholls State University took to the campus sidewalks to express their political views and show their support for President Trump's reelection campaign. 
Messages displayed included Trump 2020, Trump Train, #MAGA among others.
There were also messages regarding Louisiana's amendment one that is up for vote. This amendment refers to a woman's reproductive rights and her freedom to seek an abortion.
The group took to Facebook to display their chalk messages. 
However, Nicholls has a procedure for such activity conducted on campus and the organization did not obtain proper permission.
According to Student Activities Coordinator Carly Clark, the reservations office did not receive any requests for this group to advertise on campus, further she also stated that the office does not have any record of The College Republicans at Nicholls State University being a registered student organization.
Within hours of the post on Facebook, the chalking was removed by various Nicholls students. 
The Student Government Association (SGA) faced criticism on social media regarding the university's allowance of the chalk displays. Though SGA plays a pivotal role in what is seen around campus, it is not within their power to approve or deny a request such as this. That power lies between the Reservations office and University Administration.
SGA President Ethan Naquin stated in an email sent out to students that SGA was not involved with the chalk messages. He said students must go through the appropriate forms for events like the chalk writings and that he will investigate this event further. 
In an email, Senator-at-Large Heather LeBouef stated "The responsibility of myself and other SGA Senators and student leaders on campus is to promote inclusivity and a feeling of welcomeness on our campus. Though every person does indeed have a right to their freedom of speech our campus has a policy in place for a reason, I can certainly see why students are outraged and I wish we would have known that this was going to happen ahead of time so that we could have encouraged a more inclusive display. I can assure you that some student leaders agree with your sentiment and I encourage you to attend our meeting to bear witness to our support for you and willingness to serve you. Our Graduate Senator Tyler Legnon stated on social media, 'If you're upset, we're upset.' I can't echo that sentiment enough."
SGA encourages students to attend the weekly meetings that are held on Mondays at 4 p.m. During the meetings, students in attendance are given time to voice their opinions about what is going around campus and what they would like to see.
In anticipation of a large attendance at the meeting and many students wishing to voice their opinion about last night's drawing, the meeting scheduled for today, has been moved to Shaver Gym at 4 p.m. 
Another story with more information will be posted this evening after the SGA meeting.