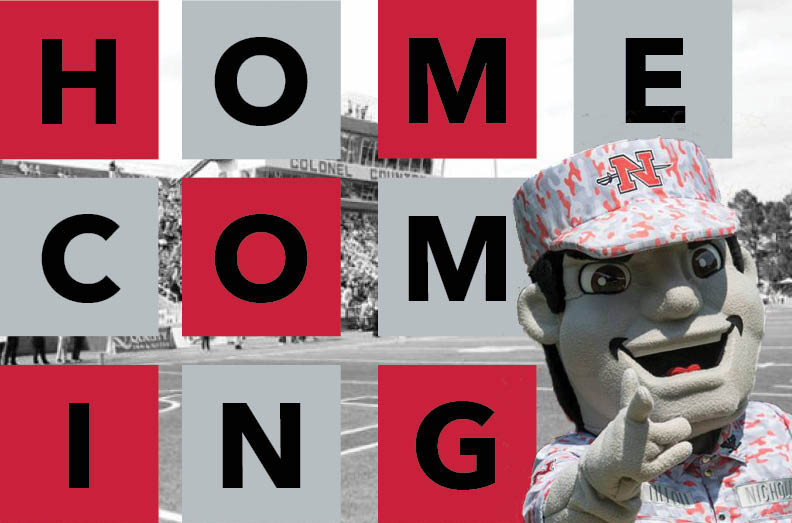 As you know, every year Nicholls has a variety of events to kick off homecoming week. Now, all of the events that Nicholls puts on are fun in their own way; however, I'm going to be talking about the top five events that really let you bring the school spirit. 
    Red Out Run 
Red Out Run is an event that the Student Programming Association puts on that lets you enjoy a 5k race as well as a fun run around the Thibodaux area. It's a lot of fun because you can bring your friends and family out to show support to the Nicholls community, and you get some exercise in as well. When you attend the event, you get a free t-shirt, custom race bib and those who complete the race receive a finisher medal. This year, however, things may be a little different as the race is scheduled to be virtual due to the ongoing pandemic.
    Homecoming Breakfast and Silent Disco 
Homecoming Breakfast and Silent Disco, I feel, are two events that go hand in hand. Both events are known for being some of the most looked forward to events of the week as both are super fun and exciting to attend. Homecoming Breakfast is everyone's favorite because you get free breakfast, yes free. This year's breakfast event will be Monday, Oct. 5 from 8 a.m until 10:30 p.m. in Vernon F. Galliano Dining Hall and Cotillion Ballroom. Not only will you be able to eat breakfast, but there will also be some giveaways. 
Silent Disco is also a lot of fun as you and your friends can show up and have a good time without having loud music blaring in your ears. What makes this event so unique is that unlike a regular dance party, this one is silent. Each person puts on headphones that let them hear the DJ's music and have a dance party on the dance floor. This event is a great opportunity to have a fun time with classmates and friends. 
    DIY Pirogue Decorating
One of the events that really lets you get creative is the DIY Pirogue Decorating event. Even though I may not have participated in this event myself, it does seem like a lot of fun as I always see different people getting creative and having fun decorating their own pirogue. You can even bring your decorated pirogue into the SPA office to be entered into the best-decorated pirogue contest. If this sounds like an event for you, make sure to stop by the student union on Oct. 6 to grab your free DIY kit and get to decorating. This year's contest will be lived streamed on Facebook Live. 
    Alive at Five 
This is hands down the best event that Homecoming Week has to offer, besides the actual homecoming event itself of course. The reason why this event is so fun is that it has a lot of activities you can choose from. The event is located at the rec. You and your friends can enjoy playing some games that are set up in the parking lot, or you can even dance to the music of the live band. It's at this event that the homecoming court is introduced and after they are introduced, that's when University President Jay Clune gives a little speech and the previous homecoming king and queen light the bonfire. Once the fire is lit, you can enjoy yourself with some free food and good company. 
    Homecoming Pep Rally 
This event was obviously going to be included, and for good reasons of course, as this is one of the main events that Nicholls puts on that lets you show your school spirit and pride. This event really brings everyone out to pump up the football team before the game that Saturday. Not only does it get the football team pumped up, but it makes you excited and happy to be a Colonel as you look forward to cheering on the football team at the game. This event not only pumps you up, but it also shows you what Nicholls is all about with the cheering and screaming and the all-around fun.  
As a student at Nicholls, I look forward to these events each year as they are guaranteed to give you a good time. These events are also a good way to get out and meet new people, especially if you are a new freshman on campus. I specifically love how these events let you show your school pride. This year however, some of the events on campus may be a little different due to Covid-19 and the CDC's guidelines, but that doesn't mean you can't enjoy yourself. As long as you practice safe social distancing and are wearing a mask, you will still have a good time and create some awesome memories that will last a lifetime.