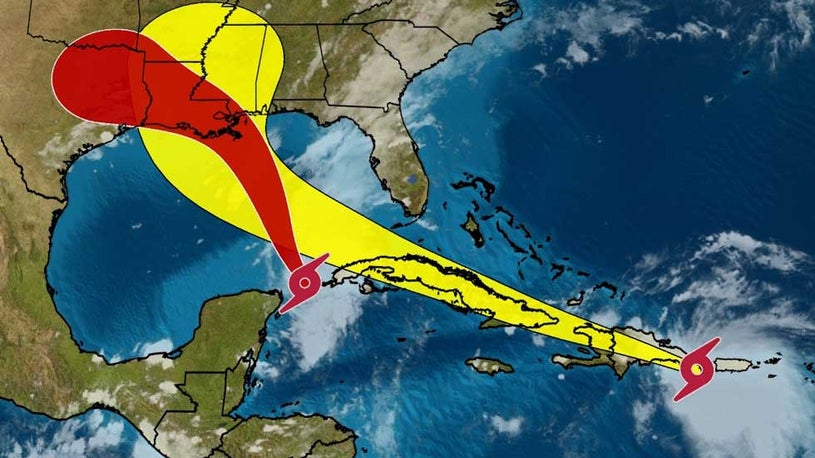 The year 2020 just seems to get stranger by the minute – this time, with two storms (Marco and Laura) expected to make landfall early next week.
In an email sent out to students Saturday night, Nicholls announced that they would be canceling all classes, regardless of delivery method, for the upcoming week out of precaution to the storm.
Director of Communications Jerad David said that it's not fair to expect instructors to teach if there are anticipated power outages nor is it fair for students to learn during one either.
How this will affect the academic calendar regarding things like fall break is still being determined at this time.
"The academic calendar is definitely one thing Academic Affairs is starting to address immediately. They are looking at the number of instruction hours and how that will be handled. We're not certain at this time. Depending on the outcome of the storm, we can hopefully get back to campus sooner. Hopefully we can come up with something that works for everyone to make up this week," David said.
Students are not being evacuated, but the university is recommending that those who can return home do so in a timely manner to avoid any inclement weather. Food services for all on-campus students who cannot leave will continue.
David encourages all Nicholls students to monitor their email, as the university will be sending updates throughout the week.
Although having two storms in the Gulf is incredibly rare, it isn't something that has never happened before. However, two hurricanes in the gulf would be a first, WWLTV Meteorologist Payton Malone explained.
"Having two storms in the Gulf is pretty rare. The last time we had two storms at once was in 2002. We had a depression and a tropical storm. Before that, the last time was 1959, when we had two tropical storms in the Gulf of Mexico. So it is very rare to have two named storms. Marco and Laura are both projected to become hurricanes at the same time, and if that happened, it would be a new record," Malone said.
With the exact path of the two storms being a mystery, the only thing we know for sure is that we can expect to have a lot of rain.
"At this point the forecast is still very, very uncertain, because we're dealing with two tropical systems. The impact depends on track and intensity, and questions remain about both of those. Something that seems pretty certain for our area is some pretty heavy rainfall, so we'll have to watch for that. It seems like a guarantee going into the early part of next week Monday, Tuesday, and Wednesday. Depending on the intensity and track of either Marco or Laura, that will determine the wind threat or the coastal erosion threat," Malone said.
Marco and Laura being on the same path could lead them on a collision course. This phenomenon is called the Fujiwhara Effect. Contrary to what one may assume, this does not mean that they would come together to form a super-storm.
"There has been a lot of talk about two storms and what happens when they come this close to each other. The meteorological term for this is called Fujiwhara. It's when two cyclones are next to each other and they begin to interact. If you have a strong storm and a weak storm, the weaker storm will start to feel the influence and pull of the stronger storm and get closer and closer. It could try to dissolve into it and weaken it, but it wouldn't make it a super-storm. Just because they combine doesn't mean you will get a stronger hurricane out of it. It might be a little bigger on satellite, but it doesn't become a perfect storm situation or mega-storm if they combine. Sometimes it even weakens them a little bit," Malone said.
Professor and Head of Biological Sciences Quenton Fontenot said the biggest impact to our area is the storm surge.
"The biggest impact that we see on our coastal areas is the storm surge, which is that strong push of water that the storm pushes up as it approaches. With the storms approaching we can expect to see areas on the coast begin to flood. The storm surge will also batter our frontlines on the coast, so the barrier islands will get beat up. On Grand Isle, the beaches will get beat-up. A lot of the beach will be eroded, and the sediments will get distributed throughout the system. If the storm is big enough, we could see some serious flooding with the wind and storm surge damage. With all that wave energy hitting our marsh area, we will probably see some type of accelerated marsh lost," Fontenot said.
For any and all breaking news on Marco and Laura, go to thenichollsworth.com or follow us on all social media platforms.