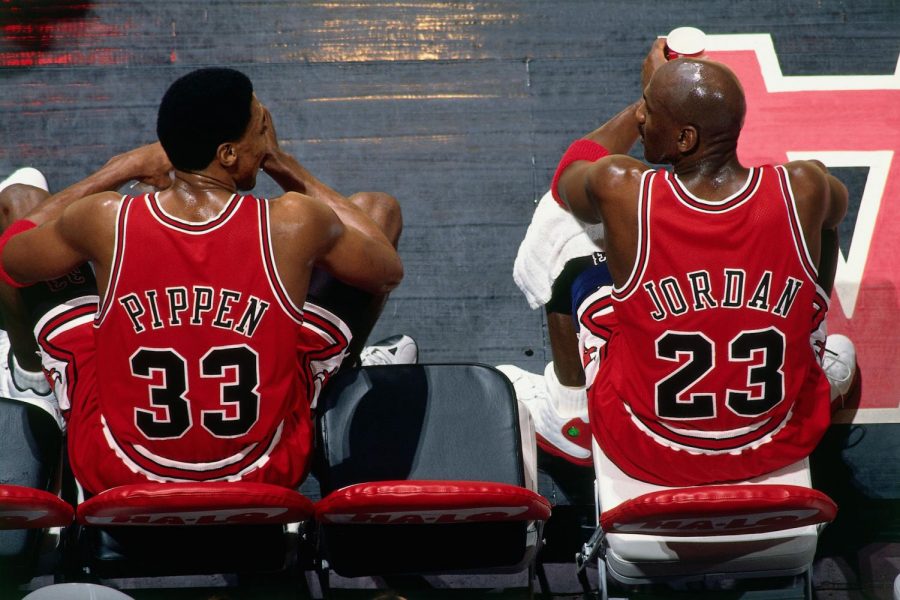 The 10-part documentary series about the last season of the Chicago Bulls' dynasty was first announced in May of 2018.
Anticipation for the docuseries has been incredibly high, as it was announced that there were over 500 hours of behind-the-scenes footage of that final season and that there was also full participation from key members of the team and front office.
The docuseries was slated to premiere in June 2020, but because of the coronavirus, it was pushed up to April 19 by ESPN. It runs as a five-week event, with two episodes playing every Sunday night. The entire series will be available to stream on Netflix in July.
Sports fans were flooding ESPN social media accounts with requests to push up the release date for the series after multiple movie studios moved films from the theaters to video-on-demand services. Some studios have also moved up the release dates of movies that were headed to DVD and streaming services.
The lack of live sports left a massive entertainment void for sports fans. The NBA attempted to fill that void by doing a players-only video game tournament and had retired and current NBA/WNBA players compete in an at-home horse tournament.
Despite multiple attempts, fans were still left clamoring for more to hold them over until the premiere of the docuseries.
The topic of Michael Jordan and his Bulls teams is the gold standard in which people use to compare great players and great teams in any sport.
It seems like you cannot have any basketball discussion without Michael Jordan coming up at least once. If you have any interest in basketball, you have been looped into a conversation about who is the best player of all time, on more than one occasion.
A documentary like this is great because it gives you a behind-the-scenes look at one of the greatest players and teams of all time.
It allows a younger generation of fans an opportunity to see why people consider Jordan to be the greatest player of all time and may even sway them to choose Jordan over LeBron James, or vice versa, when in a debate about who is the GOAT (Greatest Of All Time).
It also hits on the nostalgia factor by allowing an older generation to relive some of the best and most iconic sports moments of their lives. I am sure many people became basketball fans because of Michael Jordan and this team.
People are often intrigued by not just the rise of a dynasty but also the fall of one. This docuseries highlights the rise but also focuses on what went wrong to end the dynasty.
Jordan and his Bulls may still to this day be the most popular sports team in the world.
If there was any question of the cultural impact of this docuseries, you could just look at the response people had with the first two episodes.
ESPN held a recap show immediately after they aired, and the documentary was the topic of multiple sports podcasts and shows the following Monday morning.
People from NBA players to celebrity chefs were tweeting about how they could have sat through all ten hours of the documentary at one time.
This documentary has everything a person could look for when they want a good story. So, regardless if you are a sports fan or not, I recommend you give this a watch.