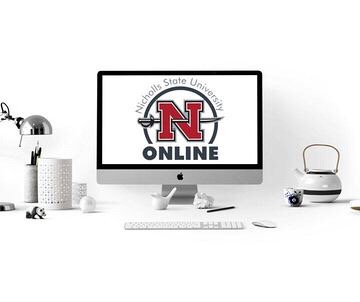 Nicholls State University's Online Bachelor of Arts in History degree program has recently been ranked in the top ten on collegesrank.com's 25 Best Online Bachelor's Degrees in History.
According to collegesrank.com, the website ranks schools' degree programs by how affordable they are and if they are, "an investment of continued value for the students who pursue them." 
The online history degree was placed at number eight in the U.S., making it the second highest ranked online history program in Louisiana. 
Paul Wilson, head of the Nicholls history and geography department, said that online education has become a highly competitive market.
Wilson said that one of the reasons he believes Nicholls' program does so well is that Nicholls does a good job of bridging the distance gap when it comes to non-local students. 
"Students appreciate the fact that our faculty sort of reduce the space through communication," Wilson said.
Wilson also said the Nicholls Online history program is successful because it offers specialization of modern history of America, Europe and Asia. 
He said the more focused areas of study are good for Nicholls students because the majority of history graduates end up working in the K-12 system, which focuses on modern history.
Kathy Dugas, a professor for the online history program, said that she thinks Nicholls' online history program stands out from other schools because the professors are very attentive to students' needs and questions and because they offer several degree paths.
"We're offering a lot of courses, so you get a good variety of choices," Dugas said.
The Director of Distance Education for Nicholls Online, Andrew Simoncelli, says that Nicholls Online is so successful because the people involved ensure that the program is making its students successful.
"It's the work of the faculty and the advisors and everybody involved to provide good customer service to remote students," Simoncelli said. "It's great that we can provide affordable degrees to these non-traditional students who have been out of school for a long time."