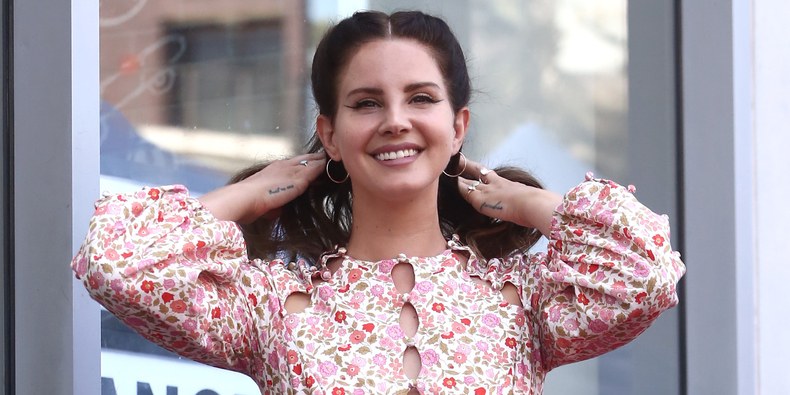 On August 30, Lana Del Rey released her sixth studio album, Norman F—cking Rockwell. The album is her best-reviewed to date. 
In the early 2010s, Del Rey was a prominent fixture on the social media site Tumblr, a multimedia sharing platform. This online era saw many GIFs from her music videos, along with many picture edits of her, often romanticizing her emotionally complex lyrics. But, who is Lana Del Rey outside of the famed 2012-2013 Tumblr, sad girl aesthetic era? 
Del Rey was born Elizabeth Woolridge Grant on June 21, 1985, in New York City. Grant grew up in Lake Placid, New York. She had attended a Catholic school and sang in her church choir. 
At the age of fifteen, after developing a drinking habit, she was sent away to a Connecticut boarding school. She took a year off of school after graduating and worked as a waitress. This is when she began performing and songwriting. She claims to have never expected to take this path seriously. 
Grant soon attended the Bronx's Fordham University as a philosophy major. During these college years, she did a great deal of volunteer work, helping homeless youth, drug and alcohol abusers and rebuilding homes on Indian reservations in Utah. She graduated in 2008 with a degree in metaphysics and philosophy. 
Del Rey used several stage names before her current one, such as May Jailer, Sparkle Jump Rope Queen and Lizzy Grant.
In 2010, her debut album, Lana Del Ray A.K.A Lizzy Grant was released for a brief amount of time on iTunes. The album was pulled due to insufficient funds from her label at the time. Eventually, Del Rey bought back the rights to the record. 
She first found fame in 2011 when her homemade music video for the song "Video Games" went viral. A video for her song "Blue Jeans" followed suit. "Video Games" won her a Q Award for "Next Big Thing" that year.
In January 2012, Del Rey served as a musical guest on an episode of Saturday Night Live, earning herself criticism from viewers. She was slammed for seeming emotionless and dull. Her stage presence was dubbed "insecure," and she was called the worst SNL performer in history by many. The performance may have been objectively bad, but this flop got people talking about Lana Del Rey.
After much hype and promotion, her first major-label album, Born to Die, was released later that month and was reviewed poorly by critics. In spite of the divided reviews, the album became the fifth best-selling album of the year. Del Rey soon announced that her next project, the Paradise EP, was set to be out that November. 
Paradise was her second major release, and it fared well, being positively received by critics.
In December of 2013, she released a short film, Tropico, that included "Body Electric," "Gods and Monsters" and "Bel Air" from the EP.  In 2014, the Paradise EP was nominated for the Best Pop Vocal Album at the Grammy Awards. She had songs featured on both The Great Gatsby and the Maleficent soundtracks. 
2014 and 2015 saw the releases of Ultraviolence and Honeymoon, both released to favorable reviews. In 2015, Del Rey also collaborated with The Weeknd on the track "Prisoner," featured on his album Beauty Behind the Madness. That same year, she won the Billboard Trailblazer Award for Women in Music. 2016 saw Del Rey collaborate with The Weeknd once more, on tracks "Party Monster" and "Stargirl Interlude". 
Lust for Life was released in July 2017, featuring collaborations with ASAP Rocky, Playboy Carti, The Weeknd, Stevie Nicks and Sean Ono Lennon. This was the first time she featured other artists on her own release, and these features arguably highlighted Del Rey's growing star power. 
In September of 2018, the singles "Mariners Apartment Complex" and " Venice B*tch" were released, and Del Rey announced Norman F—cking Rockwell. Del Rey also announced Violet Bent Backwards Over the Grass, a poetry book. 
2019 saw Del Rey release a cover of Sublime's "Doin' Time" and a cover of "Season of the Witch" for the film adaptation of Scary Stories to Tell in the Dark. 
Norman F—cking Rockwell seemingly exceeded everyone's expectations. It was met with critical acclaim; Rolling Stone journalist, Rob Sheffield claims that Del Rey "has finally made her pop classic." 
NFR is Del Rey's sixth top-five album and debuted at number three on the Billboard 200. 
Del Rey's affinity for old Americana and tragic beauty has followed her through the years and are both recurring themes in her music. She has always remained true to herself and her image. 
She encourages personal freedom and artistic expression, and these concepts transcend the original, idealized, romantic aesthetic she was originally known for at the beginning of her career as Lana Del Rey online. 
Lana Del Rey is more than a perfectly manufactured poster child of early 2010's teen Tumblr; she is an artist who deserves all of the critical acclaims she is now so-rightfully receiving.