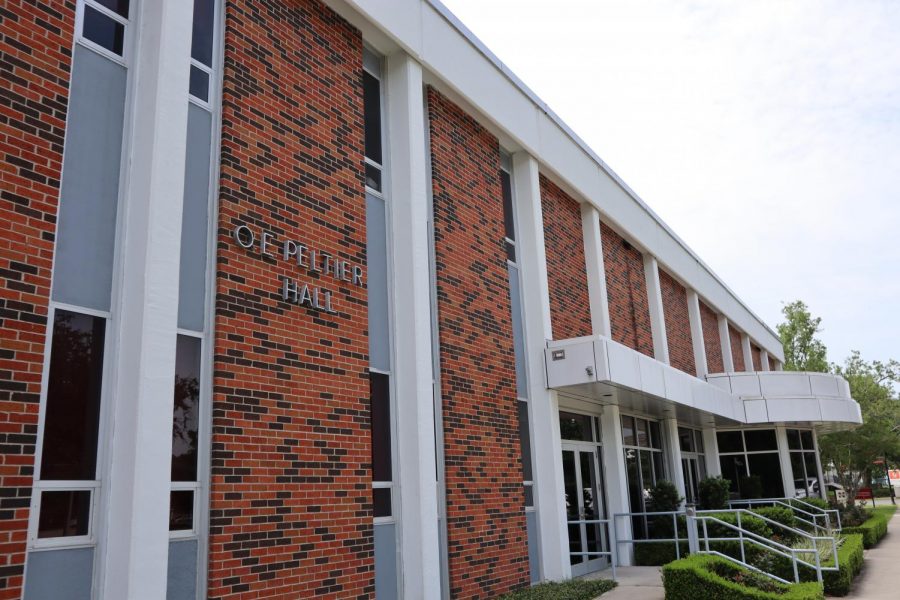 Collin Brazan
Nicholls State University continues campus renovations with Peltier Hall, the student union and library throughout the summer.
Nicholls is focusing renovation efforts on classrooms in Peltier Hall, one of the oldest buildings on campus, for a portion of the summer.
Clune said these renovations will help students feel like they are on a modern university campus.
"The other thing is retention. Most of our freshman go into Peltier Hall and we knew that was a liability in terms of making it a nice, comfortable learning environment for our lower level students who are taking gen-ed courses," Clune said.
Clune said the university's priorities were the restrooms and lights in halls and classrooms.
"We're confident after we knock out the student union, make some progress on the library and make some progress on Peltier Hall, we can really be enhancing the campus environment for students," Clune said.
As of this past academic year, the university has completed renovations in Peltier Hall's first and second floor bathrooms. The renovations include the same space as the original restrooms and were renovated to look more modern than before.
Terry Braud, vice president for finance and administration, said last academic year the university had five classrooms in Peltier Hall painted. This year, it will additional classrooms painted.
In addition to paint, the next five classrooms will see new ceiling tiles and upgraded lighting.
Braud said students and Clune voiced concerns about dim lighting in hallways. He said the fluorescent lights were replaced with LED lights.
"If you've had the opportunity to walk through Peltier, you will find the hallways much brighter," Braud said.
With these projects, Nicholls' student government association has provided partial funding for materials. Braud said SGA will be replacing the desks and other furniture in classrooms.
SGA has committed approximately $15,000 towards the project. Braud said administration and SGA are still determining the amount of furniture they can afford.
Braud said during the upcoming year the university has additional upgrades planned, such as the heater on the second floor in Peltier Hall, as the air conditioners and heaters are between 17 and 20 years old. The heater is also leaking water.
Nicholls will invest $200,000 between November and December to replace it.
Aside from the interior renovations, Nicholls will consider replacing Peltier Hall's roof.
"A real opportunity that we have—and we haven't gotten a full written commitment from the state yet, but we believe that we will get that in the very near term—is the state will be providing major repair money to us so that we can replace the entire roof in Peltier," Braud said.
Braud said the current roof is at least 20 years old.
Braud estimates the new roof will cost $1 million. Once the new roof is built, the university will consider additional renovations to the building's interior.
If funding is secured, the university will construct the new roof this fall, and will take between 60 and 90 days to complete.
"We're doing all these things, moving things around and improving things and so forth, but we also realize a number of spaces we have equipment, we have furniture, we have other items that are sort of being stored in classrooms and in spaces where the students go and gather. We are in the process of decluttering those spaces," said Braud.
Braud said Nicholls has made space available to store those items temporarily and they will be transferred to off campus unless they are needed.
Including the roof, the university anticipates the renovations to cost $1.7 million, though some of the roof funding is expected to come from the state government.
The board of regents and the University of Louisiana System have provided funds to do some of these repairs and projects as well.
In addition to these repairs, Braud said Nicholls will be using some of its own operating budget. The university set this money aside during a previous operating year. Technology replacements will come from the student technology fee.
"Hopefully, we will see a few more smiling faces. Hopefully when they walk in, for example, from the outside, they will immediately be greeted by the brighter space," Braud said.
In addition to Peltier Hall, Nicholls has begun classroom updates in Polk Hall and construction in the student union.
Braud said along with donations, this university is set to spend about $400,000 on the student union renovations.
Braud and Clune expect work to begin in the union within the first week of July. It is scheduled to take between 60 and 70 days, but Braud said he anticipates it will be completed in 45 days barring interruption.
The university is also doing additional construction to the greenhouse and other buildings on campus throughout the summer.
"I think for students, environment means so much, whether you are in a classroom or whether you are in a library. Whether you are in Peltier or Gouauxauditorium or in the student union, students should feel like they are appreciated. I think spaces matter in terms of students collaborating with one another, wanting to be in that space rather than be in their dorm rooms. For commuters to want to stay longer on campus and interact with their fellow students rather than get in their cars and go home, and to do that you need to create inviting environments," Clune said.