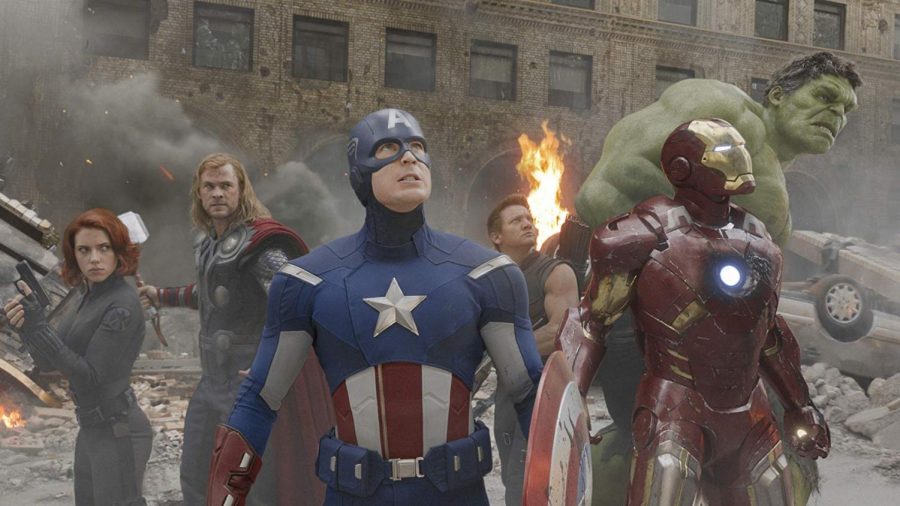 I was 14 when I watched the first Avengers film.
Back then, six beloved heroes coming together was the pinnacle of the "ambitious crossover event."
There were no Guardians of the Galaxy, no Wakandans and only two versions of Spider-Man.
Marvel did something with The Avengers in 2012 that was yet to be done; it had spent four years telling individual origin stories that spanned across an interwoven universe.
Along the way, those films teased something bigger–a team-up, a point where multiple heroes' stories would converge in an epic fashion.
No one, not even Marvel's executives, could have predicted the behemoth that this universe would become–that six films would turn into 21 and six heroes would turn into too many to count.
Yet, here we are, days away from the release of the biggest superhero film of all time–the film who creators call "the conclusion" of 11 years worth of storytelling: Avengers: Endgame.
Of course, there are arguments tirelessly made against the Marvel Cinematic Universe (movies are not real life, franchises are a money-grab, superhero fatigue is bound to set in), and yes, they do hold some truth. But, what Marvel has done with its 21-film universe is something much deeper than a money-grab.
Marvel gave us heroes that became part of our changing lives, that grew up along with us.
And it all started with six.
It's nearly impossible to not know the names Scarlett Johansson, Jeremy Renner, Mark Ruffalo, Chris Hemsworth, Chris Evans and, certainly, Robert Downey, Jr., these days.
Turn on any television, go to any movie theater or walk into any department store and you're bound to see at least one of their faces somewhere.
They're the faces that launched the MCU as we know it and paved the way for everyone who came after them.
Johansson made her first appearance as former Russian spy Natasha Romanoff, a.k.a. Black Widow, in 2010's Iron Man 2.
Renner brought Clint Barton's Hawkeye to life in the first Thor film in 2011–the same movie where we saw Hemsworth step into the role of the titular God of Thunder for the first time.
Ruffalo took over the role of Bruce Banner, better known as the Hulk, in The Avengers after replacing Edward Norton.
In 2011, we met one of the most beloved movie heroes of all time when Chris Evans donned the red, white and blue for the first time as Steve Rogers in Captain America: The First Avenger.
And then, there's the man who started it all, back in 2008. Robert Downey, Jr., became Tony Stark, and there was no looking back.
Marvel has since brought countless incredible heroes to life on the big screen, from Scarlet Witch, to Doctor Strange, to Ant-Man, to Black Panther, to Captain Marvel.
Characters like these have captured hearts and broken ground, and their impact on the franchise is undeniable.
But there will always be something about the original six that's just different.
In a recent interview on the Avengers: Endgame press tour, Johansson said that she met a "Black Widow superfan" who saw Iron Man 2 for the first time when she was six years old. That fan has grown up loving the character of Black Widow into her teenage years.  
For MCU fans who were there from the early days, that story probably looks a lot similar.
Maybe you were a child when you first watched Iron Man, and now you're preparing to graduate from high school. Maybe you were finishing up elementary school when you saw Thor for the first time, and now you're finishing up your undergraduate years. Maybe you were newly-married when you watched the Avengers, and now you have children with whom to share these films.
For me, I became a "Captain America superfan" easily.
There was something hard not to love about the selfless kid from Brooklyn chosen to be a super-soldier because of the goodness of his heart, who was ready to sacrifice his life at any second, without hesitation, to save someone else.
It seemed like there was a Captain America movie that came out in every stage of my life.
I saw The Avengers a few months before the birth of my now six-year-old sister, who is starting to fall in love with superheroes herself.
The Winter Soldier premiered while I was a sophomore in high school and just beginning to figure out who I was.
I watched Civil War on the last day of my senior year, as I prepared to make the big transition to college and beyond.
There are characters we all grew up loving when we were little, but the MCU gave us characters to grow up with.
In the last 11 years, we've watched these heroes change and discover who they're meant to be.
We've watched Natasha Romanoff learn to forgive herself for her past and take ownership of her spot among the Avengers.
We've seen Clint Barton as a family man.
We've witnessed Bruce Banner learn to embrace the Hulk that he once feared.
We've watched Thor grow from an arrogant king into a humble leader.
We've witnessed Steve Rogers face betrayal and difficult choices to learn that the world is changing, but it needs heroes more than ever.
We've seen Tony Stark grow from a hot-headed billionaire into the selfless face of the "Earth's mightiest heroes."
It's almost as if the lives of the heroes we love have grown and changed as ours have. They've seen their own share of pain and joy and defining moments.
This is something that other film franchises have been unable to achieve and may never be able to replicate. In fact, it's possible that Marvel won't even be able to replicate down the line what it has done with the current MCU.
No one actually knows what is set to happen in Endgame. There have been trailers that featured scarce footage, but Marvel executives have said that those pieces of footage are mostly fake.
Nonetheless, directors Joe and Anthony Russo and Marvel Studios president Kevin Feige are vaguely billing Endgame as exactly what its name suggests: the end.
Of course, Marvel Studios has unconfirmed movies in the works, so it's not the end of the franchise.
But, the fourth and final Avengers movie is going to be the conclusion of the MCU as built on the original six.
It's highly possible that we will see some of them retire.
It's equally and painfully as possible that we will see some of them die.
The "bring tissues, this film will wreck you" mindset has been pushed endlessly on the Endgame press tour, but so has the promise of a satisfying conclusion to their stories.
The impact that Johansson, Renner, Ruffalo, Hemsworth, Evans and Downey will leave behind is unprecedented.
They've touched the lives of fans and each other alike, even going as far as getting matching Avengers tattoos. They've reached the point where they've practically become their characters in real life.
Endgame is going to be an emotional experience for dedicated MCU fans, to say the least.
It's going to evoke the same feelings as a long-running television show coming to an end or a beloved professional athlete retiring.
All good things must come to an end, though, and it's time to say goodbye to the heroes who touched our lives.
So whether you're now 18 or 21 or 40 or beyond, whether these movies have been in your life for a long time or a short one, I think there's one thing that best sums up the way we feel about this universe and these heroes who grew up alongside us: thank you.