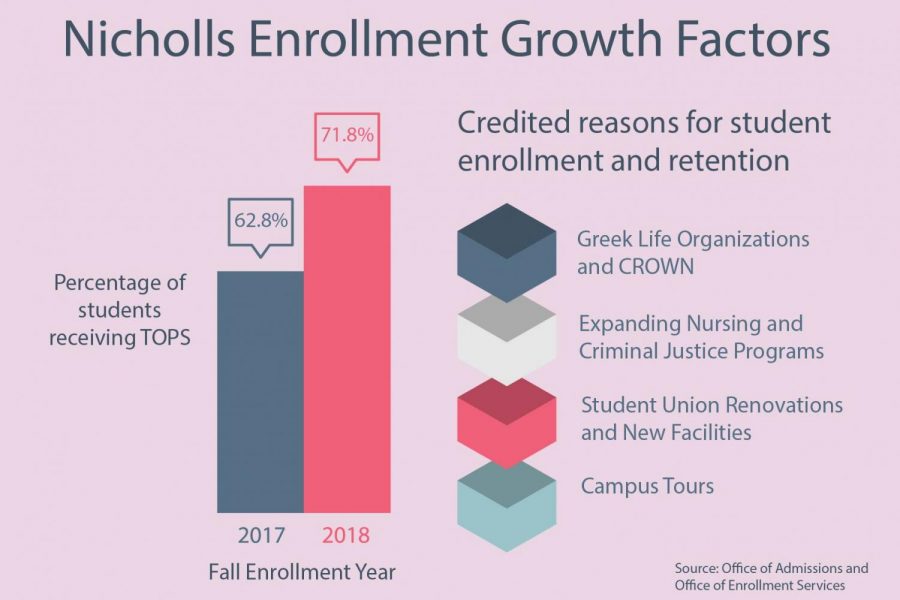 Nicholls experiences enrollment growth with higher percentages from the fall semester for the fourth year in a row.
"Overall, enrollment was up for the fall, a four-year increase. Freshmen were the highest percentage, and we also got a higher percentage of valedictorians," Courtney Cassard, from the Office of Enrollment Services, said.
Cassard said that there was increase with students receiving TOPS. From 2017 to 2018, the percentage of students receiving TOPS went from 62.8 percent to 71.8 percent. Cassard said she agreed that this was a major jump and that students are coming to Nicholls more prepared.
Cassard and Becky Durocher, from the Office of Admissions, said that the new students coming to the university have higher ACT scores, which helps them be better prepared.
They also said that the Greek life organizations and the Colonel Retention of Winners Network (CROWN) have played a major role in the enrollment growth.
"The Greek system, we have no lower numbers like the others, and CROWN is really helpful with increasing black male involvement," Durocher said.
Other programs were also helping enrollment growth.
According to Durocher and Cassard, expanding the nursing and criminal justice program has help many students and it's seen in the retention rates.
"In addition to increasing sought out degrees, Nicholls has become more competitive with our scholars program," Durocher said.
In addition, campus tours, renovations to the student union and the plan to add new facilities took part in the enrollment growth.
"Campus tours involve the professors. Beyond recruiting, you have mentor students to help you decide what major and who to visit. It's a true partner and relationship which helps retention rates," Durocher said. "We are a university of choice, and we like to consider ourselves a destination university, and that's why amazing things happen here."