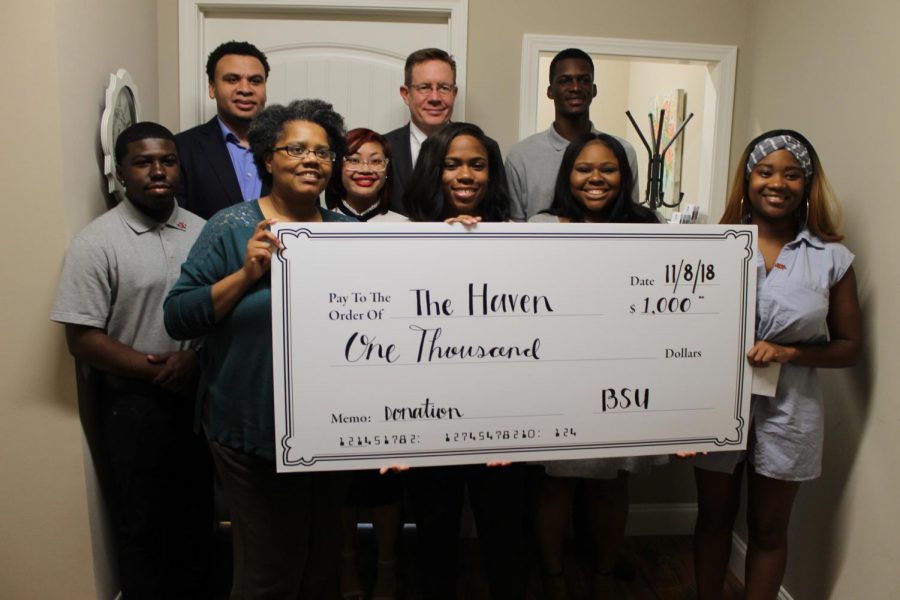 Shaun Breaux
The Black Student Union donated $1,000 to The Haven shelter after raising the money at their first BSU Domestic Violence and Awareness Gala.
The BSU Domestic Violence and Awareness Gala was held on Oct. 16, and the BSU presented the fundraised money to The Haven on Thursday, Nov. 8.
Ciera Eugene, BSU president, said the gala went very well and it was a night for a worthy cause. She said she feels that people are not used to seeing students put on such an elegant and professional event, and that helped with donations.
Ashlè Turnipseed, BSU fundraising coordinator, said the BSU chose to donate to The Haven because the women's shelter supports women from nearby areas.
"We wanted to make sure the money we raised was helping the women in this particular area," Turnipseed said. "We wanted to make sure that we were touching in the area that we are in and the people we see every day that you may not even realize need help."  
The Haven's mission is to serve survivors of domestic violence and sexual assault, serving Terrebonne, Lafourche and Assumption Parish. They have a domestic violence crisis line and sexual assault crisis line.
Melissa Williams, training coordinator, has worked for The Haven for 13 years and said she cannot imagine doing anything else. She provides training for new staff individuals and also does prevention outreach by going to the community and talking to people.
The money donated will go towards helping the shelter.
Williams said the BSU donation is going toward helping women and children this season. They need to stock up on supplies, especially during the Christmas holiday. The shelter houses around 200 people a year who are fleeing from domestic violence, a resource that takes work, money and donations.