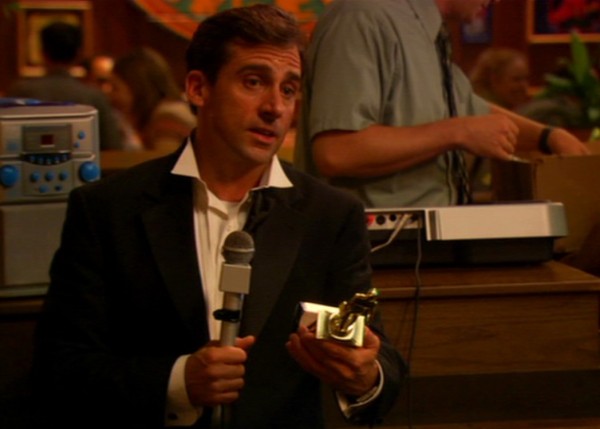 The Office has become a staple of pop culture today. Mention it in any setting, and it will be nearly impossible to find someone who hasn't watched it all the way through. The show is full of iconic episodes with memorable lines that any diehard fan will know by heart. Here are its five best:
"Fun Run"
The first (and second) episode of the fourth season of The Office gives us Michael Scott at his very best. What else would be expected from an episode where he hits Meredith with his car before the title sequence even rolls?
"Fun Run" sees the all-too-familiar side of Michael that blindly believes he is doing the right thing. He organizes the "Michael Scott's Dunder Mifflin Scranton Meredith Palmer Memorial Celebrity Rabies Awareness Pro-Am Fun Run Race for the Cure" and requires all of his employees to participate. What ensues is a series of small, but golden, Office moments. Pam walks in on Michael changing in his office. His then-girlfriend, Jan, donates $700 of his own money to the cause, $200 of which he uses to buy a giant check that he presents to a "rabies doctor." Kevin runs in his suit because he didn't bring proper clothes. Michael gets sick after carbo-loading on fettuccine alfredo before the race and refusing to drink water.
In equally entertaining side stories, viewers learn that Dwight killed Angela's cat, Sprinkles, and that the long-awaited romance between Jim and Pam has finally become a reality.
While "Fun Run" is more reserved than other episodes, it ultimately showcases what makes the show so rewatchable.
Memorable moment: "I have flaws. What are they? Oh, I don't know. I sing in the shower. Sometimes I spend too much time volunteering. Occasionally, I'll hit somebody with my car. So, sue me." -Michael Scott
"The Dundies"
Ask anyone if "The Dundies" is in their top five Office episodes, and they'll probably say yes. It's a classic in every sense of the word, and there's a good chance it's changed your Chili's dining experiences for the rest of your life.
Season one of the show has its great moments, but "The Dundies" is the episode that really sets the show's tone moving forward. It also proves that The Office is at its strongest when Michael is at the forefront. "The Dundies" pulls the employees out of Dunder Mifflin and puts them in Chili's for the office's annual awards showーthe perfect setting for a series of classic Michael Scott antics. Throughout the night, he awards his employees with titles like "Busiest Beaver" for Phyllis, "Spicy Curry" for Kelly and "Hottest in the Office" for Ryan. The show is complete with a number of botched covers of famous songs like "Tiny Dancer" and questionable comedy routines by Michael.
The real star of "The Dundies" proves to be Pam, though. After teaching the audience about "second drink," she drunkenly accepts her "Whitest Sneakers" award and delivers one of the show's most iconic lines when she proclaims that she "feels God in this Chili's." Then, she gets banned from the restaurant chain for life.
All in all, "The Dundies" is The Office at its finestーwith Michael being tragically out-of-touch with his employees' feelings.
Memorable moment: "Was this year's Dundies a success? Well, let me see. I made Pam laugh so hard that she fell out of her chair, and she almost broke her neck. So I killed. Almost." -Michael Scott
"Murder"
"Murder" is a painfully underrated goldmine of an episode. It arrives right in the middle of Jim and Michael's delightful stint as co-managers and plays off of that dynamic to perfection. What makes "Murder" so great is that it doesn't have one defining, comedic moment; it's full of small antics and hilarious dialogue that leaves viewers giggling from start to finish and proves why the show's ensemble cast is one of the greatest of all time.
With news that Dunder Mifflin is in financial trouble, Michael decides to boost morale in the office by leading his employees in a murder mystery dinner party gameーa method that Jim is vehemently against. What follows is twenty minutes of fake southern accents and hilarious banter. When Jim tries to prevent him from playing the game, Michael reminds Jim that he owes him a favor after stopping his "tube city" plan of running plastic tubes throughout the office and letting hamsters run through them. Each character assumes a persona from the game, with roles like Michael as playboy Caleb Crawdad and a reluctant Angela as witch doctor Voodoo Mama Juju. Creed frantically flees the office after being told by Michael that he is a murder suspect, and Jim walks in to find a full crime scene reenactment, with Meredith laying on the ground, surrounded by "brain chunks."
The real highlight of the episode comes at the end with a full Western finger-gun standoff between Michael, Dwight, Andy and Pam.
"Murder" is one of those episodes that tend to fly under the radar, yet, it never gets old, no matter how many times it's watched.
Memorable moment: "Andy revealed himself to be a double agent, at which point Dwight felt comfortable revealing that he also was a double agent. And then, Michael announced to everybody that, get this, he was a double agent. Oh, and it is 6:00." -Pam Beasley
"Stress Relief"
"Stress Relief" is the episode that you turn on when you want to convince someone to watch The Office for the first time. Its biggest draw is that it boasts arguably two of the greatest scenes in the show's history: the fire drill and the CPR dummy.
The fire drill scene is the most chaotic piece of comedy imaginable. After Dwight starts a fake fire in the office to get back at his coworkers for ignoring his safety presentation, all hell breaks loose. Oscar climbs into the ceiling to search for help. Angela pulls her cat, Bandit, out of a drawer and throws him to Oscar, only for Bandit to come crashing through the ceiling. Kevin breaks the glass on the vending machine and frantically takes snacks. Stanley has a heart attack, and that's not even half of it. The office is later forced to participate in a CPR training that ends with a "Stayin' Alive" singalong and Dwight cutting the face off of the CPR dummy. And that still isn't the end. Michael then decides to hold a roast of himself to lower stress in the office, and it does nothing but backfire on him.
There is SO much that goes on in this two-part episode, and yet it doesn't feel overdone. "Stress Relief" takes everything that makes the show so fantasticーfrom Dwight's meddling, to Michael's failed attempts to care for his employees, to the overall chaos of the Scranton branch ーand places them into one perfect, laugh-out-loud episode. It's the prime episode for showcasing the kind of humor that the show does best.
Memorable moment: "Angela, where's Angela? Whoa, there you are. I didn't see you there, behind that grain of rice. Boom. Roasted." -Michael Scott
"Dinner Party"
"Dinner Party" is a divisive episode. Some people love it. Some people can't stand to watch it because of how incredibly uncomfortable it isーwhich is exactly what makes it the best episode of The Office. "Dinner Party" possesses the show's greatest writing and humor of all time. Almost the entire episode takes place in Michael's condo, where Jim, Pam, Andy and Angela are invited to a couples' dinner party that throws them headfirst into Michael and Jan's disturbingly dysfunctional relationship.
From the start, the episode is so cringe-worthy, it's suffocating and it's hard for viewers not to feel like they're a part of the party themselves. On a tour of the house, Jim and Pam learn that Michael sleeps on a small bench at the edge of the bed because Jan has "space issues." Jan and Michael break into a series of uncomfortable arguments during a group celebrity guessing game. Jan plays a song from her assistant, Hunter's, CD that suggests he lost his virginity to Jan, of which Michael is blindly unaware. Michael confides in Pam that he thinks Jan might be trying to poison him. And of course, the party concludes with Jan shattering Michael's $200 plasma screen TV with a Dundie.
"Dinner Party" is brilliant in every sense of the word. It strays from the show's typical humor in favor of a darker, unsettling kind of comedy that takes the idea of an uncomfortable house party to an entirely new level. The episode is fantastic because it's so painful to watch. Accompanied by hilarious talking heads of Jim and Pam expressing their horror and looking for ways to escape, as well as a later arrival of Dwight and his former babysitter, "Dinner Party" is practically impossible to top.
Memorable moment: "I don't care what they say about me; I just want to eat. Which I realize is a lot to ask for…at a dinner party." -Pam Beasley