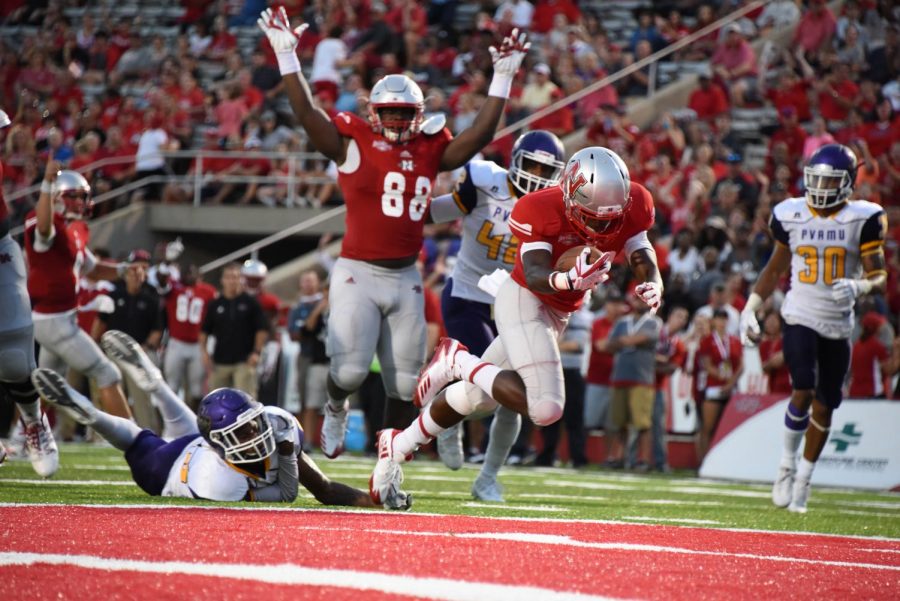 Jeffery Miller
The Nicholls State University football program has noticeably improved in each of its first three seasons under head coach Tim Rebowe, and the offensive line has been a major component to that success.
In his first season as head coach in 2015, the football team defeated Houston Baptist University (38-17) and ended a 23-game losing streak, the longest active losing streak in Division I football at the time.
In 2016, Nicholls finished with a regular season record of (5-6) and a Southland Conference record of (5-4). The turnaround of the football program has restored the Colonel Pride of Nicholls State University and placed more fans in the stands.
The football team's offensive line has been a major part of the program's success.
In 2015, the team's number of sacks allowed diminished almost 50 percent, from 56 in the 2014 season to 29 the next year. In 2016, that number decreased to 20 sacks allowed, the lowest total for Nicholls since 2009.
Brian Hernandez, Ryan Hanley and Chandler Arceneaux are three members of the "O-Train" and they are in their third season playing besides each other.
Brian Hernandez, a senior right guard from Baton Rouge, is recognized as a leader on the team as he plays his final season as a Colonel.
Hernandez arrived at Nicholls in 2013 from Dutchtown High School as a redshirt freshman. He saw some playing time the next season in 2014, but he made his first career start in 2015 in the game against the University of Louisiana at Monroe.
Hernandez demonstrated how to be a student-athlete last season when he earned Southland All-Academic and CoSIDA Academic All-District honors.
Hernandez said they want to have as little sacks as possible and be one of the best offensive lines in the conference. He also said this was the year for the Colonels to get a conference championship.
Ryan Hanley, a junior center from Metairie, is in his second full season as a starter for the Colonels.
Hanley came to Nicholls from Archbishop Rummel High School and played in every game in his freshman season. He started the final eight games of the season at center and earned All-Southland Honorable Mention honors.
Last season, Hanley started every game and again earned All-Southland Honorable Mention honors.
Hanley said the offensive linemen find time to hang out together during offseason workouts and the regular season, and that his fellow linemen, including Chandler Arceneaux, are some of the best in the conference.
Arceneaux arrived at Nicholls from South Terrebonne High School and redshirted as a freshman for the 2014 season. Arceneaux, like Hernandez, started his first game at the University at Louisiana at Monroe and started 10 games at right tackle in the 2015 season.
Last season, Arceneaux started every game at right tackle and earned numerous honors of the All-Southland First Team, All-Louisiana First Team, Southland Conference All-Academic Team and HERO Sports FCS Sophomore All-Academic First Team.
Arceneaux said the drills that the offensive line works on over the summer have helped them on the field, and that they have personal goals for themselves.
"We want a 1,000-yard back. That would make us look good," said Arceneaux.
Offensive line coach Lee Roussel said that the "O-Train" is an experienced group of players. Roussel said that Hernandez, Hanley, Arceneaux and other players are part of a hard-working unit that improves every week.
"Eddie Houston, left tackle, started last year before he got hurt, and he ended up redshirting," Roussel said. "And then you mix in a newcomer with P.J. Burkhalter at left guard and Demetrious Gleaton, who's coming from a junior college and he's got a bunch of games under his belt; they understand what we expect from them."
Roussel said that their ultimate goal is to win games, but they also have their own goals as the offensive linemen of Nicholls.
"We have our own personal goals as the offensive line: limiting mistakes as far as penalties, pre-snap mistakes and mental errors, and we've got our own rushing average that we try to meet every game, and holding teams to one or less sacks per game," Roussel said.
Roussel also said that the offensive linemen have formed an interesting bond that is different from the other units on the team.
"They eat together, they hang out together, they go to each other's houses and they cook. I give them a study guide to do, and they all go do that together," Roussel said. "I think they care about each other and that shows up on the field."
Head strength and conditioning coach Greg Carrasquillo said that the offensive line is a fun and hard-working group.
"With the offensive line, and especially the defensive line, we say it all the time that games are won in the trenches," Carrasquillo said.
"We do have to have a little bit of grit to go along with that. At the same time, there is a lot of mobility work that people don't think about. They just kind of think that linemen are big, strong guys that don't do it, but if you look at them in the game, they're bending, running, moving and they've got to be able to do that too."
The "O-Train" seems to be chugging along smoothly as the Colonels push forward toward a berth in the Division I FCS playoffs for the first time since 2005.