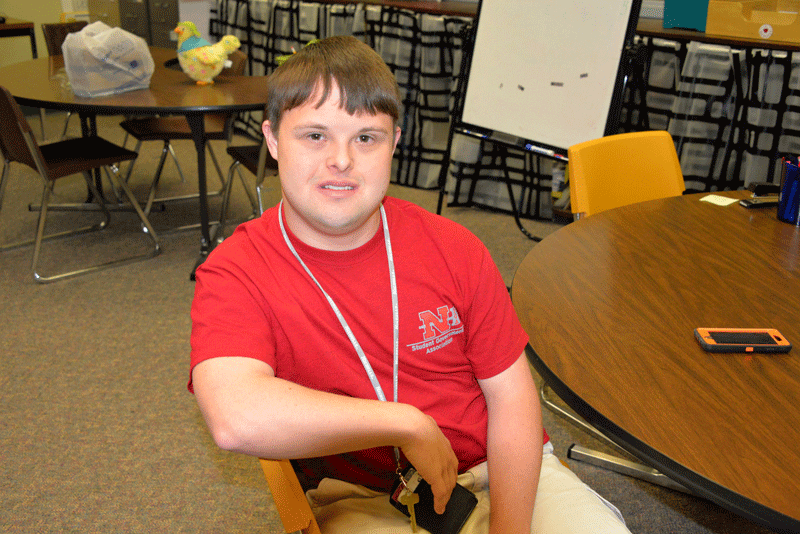 Juana Martinez
Sean David Adams, the 24-year-old student enrolled in the Bridge to Independence program from Larose, seems to do it all.
As a child, he didn't know what he wanted to be when he grew up. He, like many other children, looked up to his father and saw him as a hero.
"Like most kids, I wanted to be like my hero," Adams said. "My hero was my dad. My dad still inspires me a lot, but my God inspires me the most."
It was during one of Adams' history classes that he realized what he wanted to do for the rest of his life.
"When I was in middle school, I learned about Helen Keller in history class," he said. "Helen Keller taught me that even though you have a disability, it doesn't matter as long as you stand up for yourself and others as well. At that moment, I made up my mind. I wanted to bring hope to people with disabilities."
Adams looked up to Helen Keller so much that he taught himself sign language.
"I feel like most people with disabilities don't have people to speak up for them, except for programs like Upside Downs and Blessed by Downs," Adams said.
From that moment on, Adams wanted to be a motivator and a speaker for people with disabilities.
In 2014, Adams had the opportunity to participate in the 2014 Special Olympics USA Games in New Jersey. He played in the Olympics as a member of Team Louisiana.
"I got into the Special Olympics because of my friends," he said. "It was the excitement that got me started. I swim and do unified basketball."
Aside from being an athlete for Team Louisiana, Adams is vice president of the Athlete Leadership Council and an athletic representative for the Special Olympics.
Adams knew he wanted to be a part of the Student Government Association because it gave him the same thrill he got by participating in the Special Olympics. Adams currently holds a senator position in SGA.
"Ever since I got into SGA, it makes me feel the same as when I was in Special Olympics," he said. "I'm not just doing Special Olympics stuff anymore. I'm doing more Nicholls stuff."
Although Adams' main goal is to become a motivational speaker, he has always dreamed of becoming a writer. In 2014, he published a book titled, "I am Happy to Be Me."
Adams' foundation for his book came from a pamphlet he made for fun. Years flew by before he came across the pamphlet once again. After reading it, Adams realized he could add on to it. Adams would like to write another book and plans to continue writing as soon as he gets through his writer's block.
"Writing my book was my biggest accomplishment because my dream was to become a writer," he said. "The whole book is about me accepting, throughout my daily life, that I have a disability. I feel in my heart that I want to make a difference."
In 2013, Adams was awarded the Dan Piper Award. He was nominated by Blessed by Downs, a non-profit organization dedicated to support families and individuals born with Down syndrome. The Dan Piper Award is given to individuals with Down syndrome who help in their community.
Adams is grateful for the Bridge to Independence program on campus. According to the Nicholls' website, the program gives students with intellectual disabilities or Autism Spectrum Disorder the opportunity to gain skills needed for employment and independent living.
"Without the Bridge program, I would never have had the opportunity like my brother did and my dad did," Adams said. "My dad and my grandfather came to Nicholls. When I heard that I was coming [to Nicholls], I felt like I was finishing off the family line of Nicholls graduates."