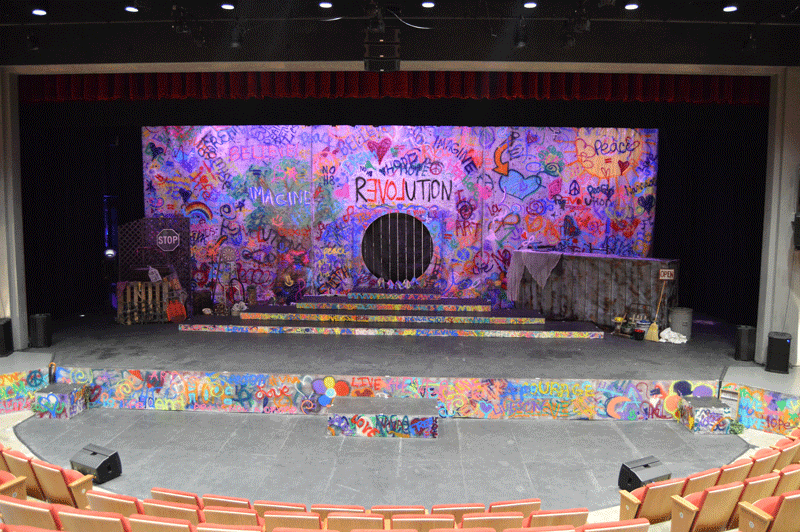 Rachel Klaus
The Nicholls Players will debut its spring production of Stephen Schwartz's, "Godspell" tonight at 7 p.m. in the Mary and Al Danos Theater.
Godspell will be the first musical production in the theater. It is the second production to take place since its renovation.
"The new theater has definitely been an adjustment for us," Anna Broussard, instructor of mass communications, said. "They have a lot of updated equipment compared to the old theater where almost everything was broken. We are still trying to adjust to how everything works but it truly is amazing to be able to do all of the new things we can now do in the renovated theater."
Godspell was written in the 1970's and takes place in New York City with a cast of nine hippies and Jesus Christ. It reenacts various parables of the bible through song.
The cast and crew have been hard at work since auditions for the show first began in late November and early December of 2016. During the auditions, students were required to prepare a song as well as perform a cold reading.
"We usually have students read scenes from the script," Broussard said. "However, we did not have the scripts in time so I had students read lines from other scripts just to see how well they interact with one another. Another important aspect of this audition was the song. Being that this is a musical, it was important that the performers could sing as well as act."
The Nicholls Players are not only looking for actors and actresses for their productions. They also look for students and members of the community who are in need of service hours or who may want to learn more about the theater.
"You do not have to be a member of the Nicholls Players to participate," Cheyenne Skye, past Nicholls Players president, said. "We are extremely welcoming of everyone who wants to come out and be a part of the theater. Whether you are a Nicholls student, an alumni or even a member of the community, we are more than willing to work with anyone."
This production has a cast of ten performers along with students and alumni who make up the crew, makeup and props.
"For this production, the makeup has brighter colors while the clothes are more neutral," Broussard said. "We have a very bright set. Therefore, the neutral colors they wear will stand out more in front of the background."
The set is built and designed entirely by members of the crew. They began construction on the set over Mardi Gras break and continued to work and add finishing touches until the week of the performance.
The Nicholls Players will perform Thursday March 16 to Sunday March 19. The performance will begin at 7 pm on Thursday through Saturday and the showing on Sunday is set to start at 2 pm. For updates on any information regarding productions or performances, visit the Nicholls Players on Facebook.
"The play may have been written in the seventies, but a lot of it is still relevant today; the musical is extremely powerful," Emmalyn Buquoi, interdisciplinary studies senior from Marrero, said. "We just want students, faculty, staff and members of the community to come out. We want support for not only the theater program, but also the cast and crew who dedicated a lot of time and effort into making this production a success."