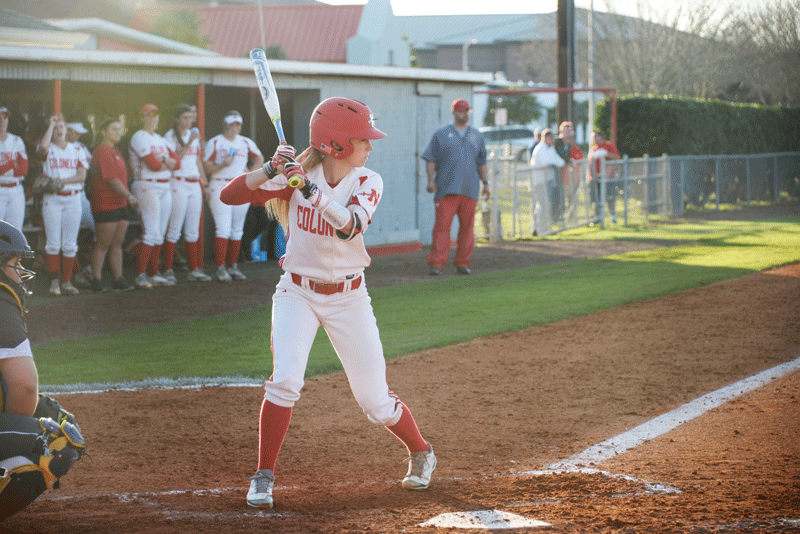 Lauren Hebert
After earning three total wins in their last two tournaments, thus bringing their overall record to 14-9, members of the Nicholls State University softball team seek to rebound as they head into conference play.
"We're actually in a similar situation as last year," Angel Santiago, the Nicholls softball head coach, said.
Last season, the Colonels had a winning record of 13 after tournament play, where they then pulled off a 21-5 record against Southland Conference opponents.
"We're not going to lose two games in a row in any conference series," Santiago said.
Each of the games Nicholls played in their conference came in the form of a three-game series against the same opponent. Last year, the Colonels only lost more than one game in a series once against McNeese State University.
In order to perform well in conference play this season, Santiago said the team must learn from the four tournaments they played in at the beginning of the season.
"It was a growing process for us," Santiago said.
The Colonels went 4-1 in their first tournament of the season, the Lion Classic, before going 3-1 in their next tournament, the Black and Gold Invitational. Nicholls saw more trouble at the University of Texas at Arlington Invitational and the Red and Blue Classic, where they went 1-4 and 2-3, respectively.
Six of their nine losses this season were decided by one run, with Nicholls recently giving up a majority of runs in the last three innings.
"Sometimes mistakes help us as it gives us something to improve on," sophomore pitcher Megan Landry said, referring to the troubles the Colonels have had closing out games.
"It starts with our focus; we need to demand from ourselves [the ability] to finish the game off just like we started," Nicholls catcher Moriah Strother said.
"A lot of roles have been defined and changed, "Santiago said on the tournaments. "I think the emotional side of the game is what we've learned more than anything. [We learned] not to listen to people in the stands, the feeling of disappointment and the feeling of elation when you're right there."
Santiago said his proudest moment as a coach came when the Colonels defeated Austin Peay State University last Sunday for their last game of the Red and Blue Classic.
Nicholls opened the tournament with a 3-4 loss to Austin Peay, but managed to close out the tournament against them with a 6-1 victory.
That game is one that Santiago hopes his players will keep in mind when starting conference play this weekend against Houston Baptist University.
"Hopefully we get a sweep this weekend," Strother said. "We need to take it inning by inning and pitch by pitch, and we can't afford to take a pitch off."
"We were going back to the basics and working on our skills this week, and I feel like we've been steadily improving," Landry said. "I think we're going to be prepared to go into conference [play]."
The Colonels begin conference play this weekend with a three-game series against Houston Baptist University, starting tomorrow at 6 p.m. That matchup will be followed by a 12 p.m. and a 2 p.m. game on Saturday.