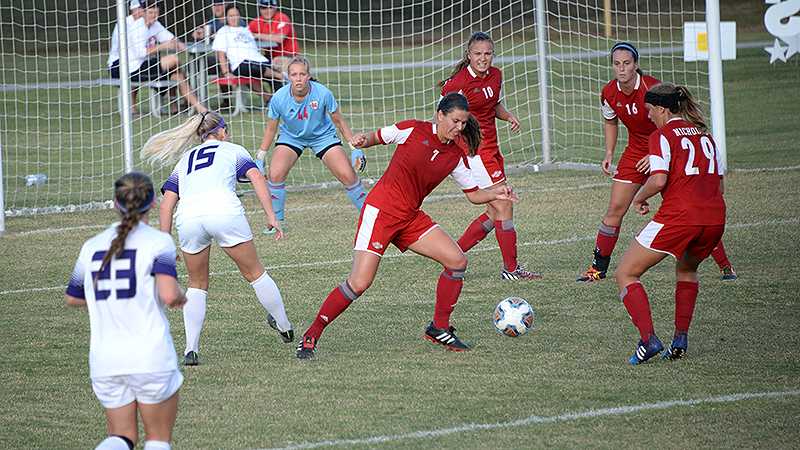 Richard Galbreath Jr.
Despite being unable to capture a win on their most recent road trip, the Nicholls State University soccer team has remained in the playoff hunt.
After a tie at Northwestern State and a loss at Central Arkansas, the Colonels are ranked seventh out of twelve teams in the Southland Conference.
In the Colonels' tie against Northwestern, both teams were found without a score. Nicholls had a total of 22 shots as opposed to Northwestern's 12, but the extra effort did not make a difference in the final score. Northwestern, who is third in the Southland Conference, got their first tie of the season against Nicholls. This tie was the second for the Colonels this season, with their first having come from a home game against Lamar.
Following the tie against Northwestern, Nicholls lost to Central Arkansas with a score of 3-0. Nicholls did not replicate the numbers they had put up against Northwestern, for they only had 5 shots as compared to the 18 of Central Arkansas. Despite having five more fouls than the Colonels, Central Arkansas was able to pull ahead and remain the top team in the Southland Conference.
Even with their most recent results, the Nicholls soccer team still has the possibility of making the playoffs.
"If we can go out and get a win, we guarantee ourselves a place in the conference tournament," Nicholls soccer head coach Michael McBride said. Their final game is on the road against Southeastern, who is currently ranked at one spot below the Colonels in the conference.
"It's obviously a big challenge, but it's one our players will relish," McBride said.
The Colonels have only won a single road game this season, which came against Grambling at the beginning of the season. While Nicholls won the matchup with a score of 10-0, they have struggled to find success on the road since.
"We've made strides to our performance on the road. On our last road trip, we played the best road game [against Northwestern] of this season," McBride said.
McBride said that the fan support has been one of the biggest reasons for the Colonels' success at home. He said that they would try and treat their final regular season match as if it was a home game, and that he is certain fan support at the game would be a major boost for the team.
The Colonels will play their final game of the regular season Friday on the road against Southeastern Louisiana University.