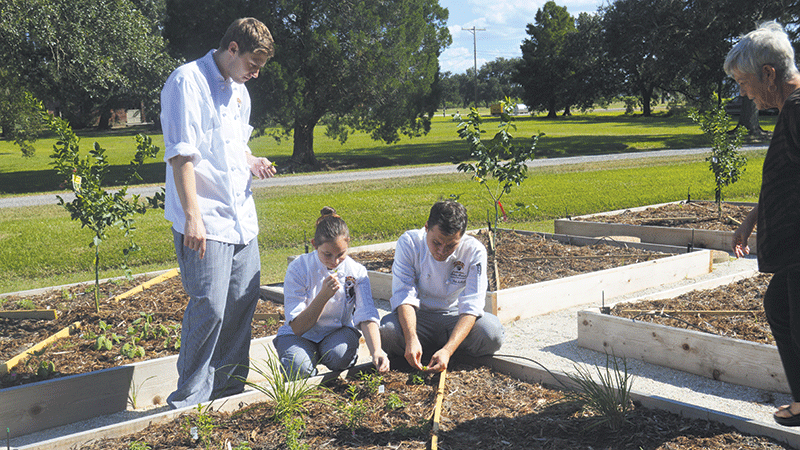 Claire Blanchard
The Chef John Folse Culinary Institute recently began growing its own garden using funds from a monthly grant from Lowe's Home Improvement.
The garden will serve educational purposes for students to learn about the different kinds of plants including herbs, small vegetables and leaf lettuces. The students will also be encouraged to use the herbs and produce in the meals they prepare.
"We began talking about planting a garden here on campus before they started the plans for the new building, but we just lacked the space," Marcelle Bienvenu, instructor of culinary arts, said. "I am so thankful for the loan from Lowe's and the educational opportunities having the garden will allow for the students."
In the summer and spring, more basil and parsley grow. There are several different kinds of mints and dill that are grown. In the next couple of months, edible flowers will be planted. Soon, carrots, miniature turnips and baby broccoli will be added to the garden.
"We use the produce grown in different classes," Bienvenu said. "I teach a class where we have an entire week dedicated to talking about how herbs can enhance dishes."
The newly planted garden will not only offer fresh herbs and produce, but also endless educational opportunities.
"A chef will tell you that you can take a $5 dish and turn it into a $25 dish with fresh herbs," Bienvenu said. "We want the students to learn that flavor is a part of culinary art."
The monthly grant from Lowe's will help supply new plants for the garden. The University has also contributed to the success of this garden by installing a watering system.
The culinary department works alongside the La-Terre Master Gardeners, a program sponsored by the Louisiana State University Agricultural Center. Members that are master gardeners have to complete 40 hours of community service each year. The group comes to Nicholls to work on the garden two to three hours a week. Students are encouraged, along with faculty and staff, to help maintain it.
"During the summer most plants can be grown, but it is also the most difficult time to maintain the garden," Bienvenu said. "Many culinary students are no longer on campus."