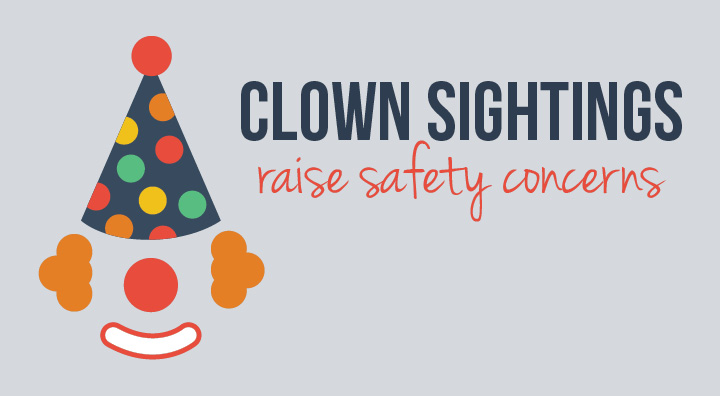 Reports of people dressed as clowns in public have been existent for years, but the amount of clown sightings have become more frequent in recent months.
Whether people believe the threats of these clowns are legitimate or not, safety is still of utmost importance to the police.
"I don't think individuals realize that what they assume is funny or a prank is really putting themselves or other people in danger," Craig Jaccuzzo, Nicholls police chief, said.
"The sense of somebody believing that it's okay to walk into somebody's backyard fully costumed and covered, or to hanging by a piece of equipment or by somebody's vehicle in the middle of the night with no reason or expectation that somebody won't take a level of force or call the police is just ignorant," Jaccuzzo said.
Jaccuzzo said that using common sense before committing such an act was essential. He also said that unless it was Halloween, Mardis Gras or a form of a masquerade party, officials would heavily enforce a law preventing individuals from concealing their face with any sort of mask in public.
"It [the law] prevents people from the temptation to commit crimes where someone thinks their identity is covered," Jaccuzzo said. "It also protects that individual, who may not mean harm, but rather has a personality where they want to be a joker."
Jaccuzzo said that these mask-wearing individuals were putting themselves in danger, as both police and citizens naturally would tend to act aggressively against someone they feel puts them in danger. Just because people have the instinct to act aggressive when placed in danger, it is not necessarily the proper solution.
"Whenever you see something that is not normal, then you as an individual need to take precautionary measures to prevent yourself from becoming the victim," Jaccuzzo said. "It can be something as simple as locking yourself in your car and calling the police, walking back into the store and coming back out with a group of people or just letting the cashier know to go look over there."
"Students should always understand and control the level of their impairment," Jaccuzzo said. "We are not ignorant to the fact that students are going to be drinking at parties, but they need to realize that they need to drink responsibly. They also need to know the party they are going to first, and make sure that there are people there they are familiar with."
With Halloween right around the corner, Jaccuzzo said that students must remain aware of their surroundings at all times. He said that while people are going out to party and have fun, it is imperative that they take the necessary precautions to do so safely.