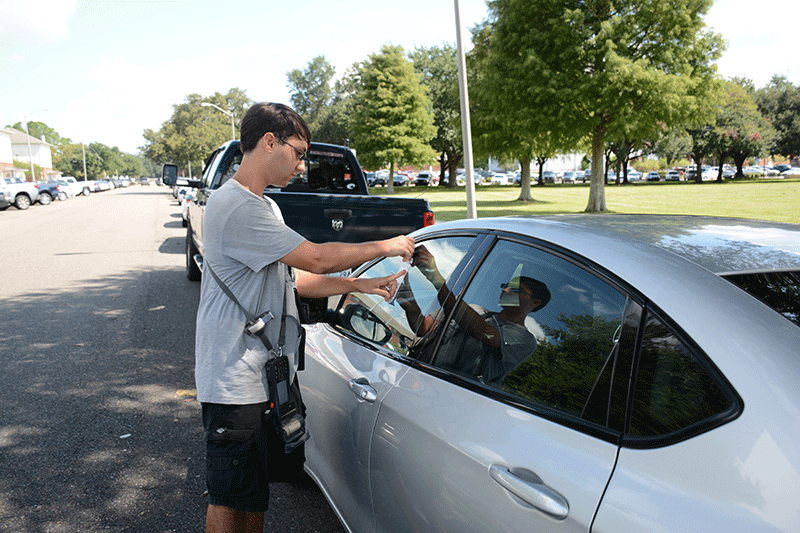 Jeffery Miller
The start of a semester marks a time when students must purchase a new decal for their vehicle or accept the parking violation fines.
University Police policy states "any vehicle parked on campus must be registered with the Office of Parking Services and must have a current Nicholls parking permit properly displayed."
"It's mostly the freshman and the transfer students who don't know what they're doing. There are a lot of people who don't have decals. I assume that they think it'll cost less to get parking tickets than to buy the actual decal," Bryant Zeringue, chemistry freshman from Thibodaux and student employee for the University Police department says. "I hand out an average of four to five parking tickets in an hour."
Students don't realize that the parking spaces by the Max Charter school are designated for student parking.
Students, faculty and staff must not only have the correct decal for the semester, but must also follow University Police policy. Many students around campus may be unaware and confused on the policy.
"Some people think if isn't red then you can park there, but it's different for students who live on campus and for the students who live off campus," Niki Pasache, elementary education sophomore from Galliano said. "People just get confused."
"I got a ticket because I parked in the wrong spot, I parked in a visitor spot. Sometimes students park in unauthorized spots because of the lack of parking," Maranda Washington, athletic training junior from Franklin said. "It is especially hard to find parking in the mornings around 9 a.m."
Students disagree with the no backing up rule and claim the parking rules are too strict.
"I think it's crazy how you can't back into spaces. It's easier to park by backing up. You can just drive out once you leave. Some spots are too close. Sometimes it's beneficial to back up into a parking spot," said Washington.
Students struggle to distinguish the different parking zones because the red paint on red zones tend to chip or fade.
"My friend got a ticket because she parked in a spot that was supposedly red, but you couldn't tell since it was chipped," Pasache said.
According to the Office of Parking Services, parking permits are $50. Parking tickets received for lack of a permit are $20, parking tickets received for parking in a disability zone without a state issued permit are $250 and any other parking ticket is $50.
Students encourage others to appeal their parking tickets if they feel it's unjust.
"I got a parking ticket because I parked in a no parking zone. I contacted the University Police department and appealed it," Pasache said. "I didn't pay anything."
Payments must be made through the fee payment window in Elkins Hall or online through Banner within 20 days of the citation. Students can request community service as a form of payment, but the request must be placed within 20 days of the date the citation was given.